The Players of Playoffs
ShareThis
A few short hockey thoughts prior to today's action:
1.  Let me preface this thought by saying this is completely unfounded, it's my own speculation, and it's not rooted in any fact. 
The first thing I saw when I saw Shawn Thornton running around in the Habs/Bruins game was: "that guy's on steroids".  NHL steroid testing is slightly better than non-existent, and I played with a couple kids who openly used while I played.  Don't think guys don't - we're not baseball by any means, but I'd speculate a guy per team.
And in all likelihood, Shawn isn't one of them.  In fact, as a reader recently pointed out (and not in the kindest way), I was thinking of (and comparing him to) Scott Thornton in his early days.  Totally different player.  But it doesn't change facts.  Players use, and the league's testing policy is not all that stringent.
2.  Just cleaning out a few hockey notes here:  Are you serious with that Fleury save on Carter?  It's not even like Fleury got all the way across the net, it looked like Carter took a moment to savour it, which let Fleury get halfway there (which was an exceptionally feat in itself).  Then Carter compounded the nightmare (score and the series is 1-1) by sliding it mid-net.  That was the series turning point.
3.  Okay, Scott Hartnell, the hair isn't exactly trendy or cool now that you've done it long enough for us to think you're serious.  Now you've just been making a bad decision for way too long.  You look like Sideshow Bob.  Or Anderson Varejao.  Which brings me to today's picture comparison center:
, Mats Sundin's eerie Terminator black eye:
, And Luongo / Jon Decaro (my college goaltender, both 6'4" and Italian):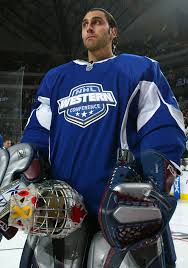 3.  Lastly, for now, I saw Marty Havlat's interview yesterday, and thought he sounded like a Newfy pirate.  Great player and all, and more than likely just French, but yeah.  Newfy pirate.
Okay!  Caps/Rangers is underway, battle of the Red, White and Blue!  See you back here tonight!