Bourne's Blog Fantasy Hockey League is a breeding ground for gambling glory.  And now that I'm not under the scrutiny of the NCAA, I like to participate in occasional frequent as many bets as humanly possible (as an aside, NCAA, I frequently played and lost poker with your scholarship money.)
Last week, I beat the tarnation out of fellow hockey writer "Ms. Conduct" (An epic 5-4 lashing).
Ms. Conduct, fittingly, is crazy – fittingly, that is, because she's a goaltender, and writes about them.  Since this is not my area of expertise, I am collecting my winnings in the form of a day off from blogging, while she discusses the goalie position with you.  If you like her stuff, you can check out more on her site here - main focus on the Minnesota Wild, goalies, and the Houston Aero's.  Oh, and Barry Brust.  She also writes for InGoal Magazine.
*****
I suppose there are worse fantasy hockey bets to lose than having to write a blog post. I mean, it's what I do anyway. My orders are to write about goaltending, which is good because I don't know anything else, but I don't have one big, consecutive thought on anything in particular, so I'm just gonna dive in and wander around.
First off, did you catch Tim Thomas let that goal in during the Winter Classic because he was busy giving Scott Hartnell the business for tripping him a few seconds earlier?
One of the first things I learned about myself when I started playing goal last year was that I'm one mean effin' goalie. You should see the looks of shock I get from these guys I play. I guess because there's a pony tail hanging out the back of my mask, I'm supposed to be demure.  Oops, guess I missed that memo, boys!
So, I get it, Timmy. That curly-headed punk slew footed you and needed to pay for it. But seriously, how do you lose focus that badly with the puck moving furiously in your zone? I've certainly done it but I haven't been playing (and learning those important lessons about maintaining composure) for 20+ years like Timmy has.
On one hand, if I were a Bruins fan and they'd lost because of that, I'd have thrown my CHOWDAH at him.
On the other hand, it kinda makes me feel better about myself as a newbie goalie. Even the Vezina winners have their amateur moments. It's kinda always how I feel when I watch Vesa Toskala.
Oh, Tosky. I know, he's an easy whipping boy, but his game is starting to become a serious fascination for me. So much that when fellow Wild blogger, Elise, from 18,568 Reasons Why was making maple leaf cookies, she even made a Vesa Cookie and sent me a picture. How righteous is that?
He really doesn't seem like that bad of a goalie technically. I've seen worse guys in the NHL in that respect, but he never ever EVER gets a friendly bounce. EVER.
It's like, all goalies have their bad nights where things just don't go their way. But EVERY night is a bad night for Toskala. And I find myself watching Leafs games where he's in net just to see what manner of monkey-poo-fling the hockey gods have in store for him, and subsequently, Leafs fans.
It makes me feel better, because often he's scored on in ways that I'm scored on. You know, a little floater that bounces on top of your pad and some hack whacks it in like a freakin' tee shot. Or you leave a tiny gap to the post that the shooter lucks the puck into. Or some a-hole dumps it in on net from the opposing blue line and it takes a funny hop into the net. Augh!
Anyway… Toskala is fun to watch for all the wrong reasons. Not sure what he did to become karma's court jester, but it's stuck to him like glue.
But that does bring me to something else I've been mulling lately. I went to the Kings vs. Isles game in Kansas City during pre-season. I was super excited to see Nathan Lawson, because Justin had sold me on his big time puck-playing skills with a bonus potential for the brand of crazygoalie I so enjoy.
And while I did enjoy him, it was Jonathan Quick in the other net who captivated me and still does. And I can't figure out why.
Normally it's Gambler Goalies that I love to watch. The ones who don't hesitate to skate out well past the hash marks to play the puck or poke check. The ones who, when a scrum develops around the net, are drawn into it rather than taking the puck for a quiet skate in the corner. The ones who hold that glove save out a couple of beats longer than necessary just to remind you who's your daddy.
But I think the bottom line is that some goalies, like Quick, just have "it" regardless of their style of play, and people can see "it" but can't necessarily put a finger on "it."
Another goalie who has "it" is Matt Climie, who plays for the AHL Texas Stars. His style isn't particularly unusual, but he's just got this… way… about him. I've interviewed him and he's not a particularly imposing guy off the ice, but on the ice, he looks 6'7". And he's just zen personified in net. Completely opposite of my favorite style of goalie, but I can't tear my eyes off of him. That is "it."
Finally, a question for Bourne's Bloggers: In a recent article, Marc-Andre "I smile a lot because my lips don't fit over my giant chiclets" Fleury said, "I'm not a hockey player, I'm a goalie."
The context was in initially trying to get a date with his current girlfriend (of 8 years… put a ring on it, Flower, for shit's sake), who said she wouldn't date a hockey player.
But it got me thinking. Some goalies really do seem like hockey players and some goalies seem like goalies. No offense to goalie goalies of course, as I'm 100% in that group. On my game nights, I don't even think of it as "going to play hockey." I think of it as "going to play goal."
But the more I thought about it, the more I realized that I do kind of think of certain goalies as more hockey players and others as pure goalies. One of our goalies in Houston, Barry Brust, is one such goalie. He's one of my all time favorite tenders, but I also think he could strap on the player gear and play out with pretty reasonable success.
But what do you think? Is there a difference in attitude or toughness that would put goalies in separate buckets like that? Do skaters think of goalies as hockey players? Or are they like kickers in football (except way more important, better looking, and can actually get in the Hall of Fame)? Let me have it.
Did you see the Kings/Flames highlight package from last night?  Mark Giordano pwned Dustin Brown so many times I thought they accidentally clipped one highlight and ran it on loop.
Brown's a fantastic player, but by the third time he was in the neutral zone trying to hustle around a forward wide with the puck all I could think was "…dude, even a puppy learns from a few newspapers to the snout…"
*****
Not sure if you saw the Deadspin article about the Flyers yesterday, but it was stirring the pot about rumours than Jeff Carter is, um, affiliated with Scott Hartnell's wife.  TMZ stuff aside, I actually learned a few things about the Flyers in it, and I was wondering what was true.
Do Pronger and Richards actually not get along?  Does the team party too much?  Do they simply hate each other?  I gotta call some people.
I will say this about the Flyers (especially in the wake of Neil's Flyer-hating comments on the "sports hate" blog) – it feels right that they've resumed their role in the league as the WWE-like heel.  Just bad guys being bad guys, villains that every team wants to destroy.  After going through their roster, I can tolerate four players.  I like Gagne and van Riemsdyk, while admiring the skill of Briere and Carle.  That is all.
*****
The Predators of Nashville have accumlated a record of 235-6, or something.  (21-11). Say wha now?  I've been doing Power Rankings every two weeks and was utterly oblivious that they were doing so well.  And you know who else is still rocking the party that rocks the party?  The Phoenix Coyotes.  Tell your friends.  Go buy tickets.  Do something.  The West is chaos!  The East is chaos!  THE NHL IS CHAOS THIS YEAR!
*****
Our rec league team has accpeted the challenge to play a local midget team (not little people.  High school juniors/seniors.  I wish it was little people.)  Full contact.  I'll post pictures of the black eye I have from fighting some kid who had the audacity to hit me.  Or of my collapsed lung, from having to actually hustle.  Whichever happens first, I'll take a picture of it.
*****
Dear Flo, from Progressive commercials:  I loved you, we had our fling, but it's over.  Stop making commercials now, please.
***** 
'
(The clipped line is: "But is having this minor skill worth being so unattractive?"  …all jokes people, just jokes.)
*****
Big ups to Islander not great Nate Thompson, for reaching number one on ESPN's Not Top Ten.  Here's bad footage that doesn't do his empty net shot proper (in?)justice:
'
"…and SOMEHOW Thompson missed!" — Gotta admire that hustle though.
*****
Have a great weekened everyone!  Thanks for reading!
A few short hockey thoughts prior to today's action:
1.  Let me preface this thought by saying this is completely unfounded, it's my own speculation, and it's not rooted in any fact. 
The first thing I saw when I saw Shawn Thornton running around in the Habs/Bruins game was: "that guy's on steroids".  NHL steroid testing is slightly better than non-existent, and I played with a couple kids who openly used while I played.  Don't think guys don't - we're not baseball by any means, but I'd speculate a guy per team.
And in all likelihood, Shawn isn't one of them.  In fact, as a reader recently pointed out (and not in the kindest way), I was thinking of (and comparing him to) Scott Thornton in his early days.  Totally different player.  But it doesn't change facts.  Players use, and the league's testing policy is not all that stringent.
2.  Just cleaning out a few hockey notes here:  Are you serious with that Fleury save on Carter?  It's not even like Fleury got all the way across the net, it looked like Carter took a moment to savour it, which let Fleury get halfway there (which was an exceptionally feat in itself).  Then Carter compounded the nightmare (score and the series is 1-1) by sliding it mid-net.  That was the series turning point.
3.  Okay, Scott Hartnell, the hair isn't exactly trendy or cool now that you've done it long enough for us to think you're serious.  Now you've just been making a bad decision for way too long.  You look like Sideshow Bob.  Or Anderson Varejao.  Which brings me to today's picture comparison center:
, Mats Sundin's eerie Terminator black eye:
, And Luongo / Jon Decaro (my college goaltender, both 6'4" and Italian):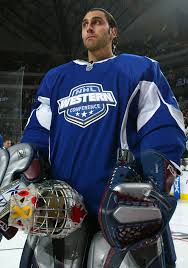 3.  Lastly, for now, I saw Marty Havlat's interview yesterday, and thought he sounded like a Newfy pirate.  Great player and all, and more than likely just French, but yeah.  Newfy pirate.
Okay!  Caps/Rangers is underway, battle of the Red, White and Blue!  See you back here tonight!