My American Adventure
ShareThis
Well, that was a good time to be computer absent for four days hey?  
Now, the Pens just happened to grab games six and seven to win the cup, right?  I think I heard that somewhere between towns with names like Punxsutawney, Gary and Limestoneville.  F$#k.
I'm destined to be haunted by orange "Road Work, next 21 miles" signs and flashing lights in my rearview, but all in all, it was a wonderful trip.  I truly enjoyed driving across this beautiful continent (save a few hundred miles west of Minneapolis), and wish it wasn't over. 
Let me proceed to judge every person in the US by what I thought of their state, simply going on what's visible from the highway, while taking the time to piss them off individually, and with care.
As Katy Perry playfully belted "I kissed a girl" in the background, I set sail due west, aiming my freshly registered car Duke towards Chicago (Duke has 666 on his license plate, and is blue.  You know?  Duke?  Blue Devil?   Ah, forget you).
I shot across the Throgs Neck, a bridge more narrow than a Klan members mind, and eventually over the vast Hudson towards the Jersey Turnpike.  The turnpike blends in well in New Jersey, because it absolutely sucks.  I needed to get out of this car-infested smog hole and onto the open roads away from major cities.
My GPS advised "Keep left on I-80″ and the distance-to-next-turn indicator read "261 miles".  And away I went.
Now, I don't know who comes up with state slogans, but I'm pretty sure I could do better.  "Ohio.  So much to discover." — "North Dakota.  Legendary." —  "New Jersey.  Come see for yourself."
How about "Ohio.  The C+ on America's report card." — "North Dakota.  Worse than Saskatchewan" — "New Jersey.  Seriously, think about it, our only contribution to America is Bon Jovi."
I was really tempted to turn into Sandusky, Ohio, but settled on just reciting Tommy Boy lines out loud to amuse myself.  "RT, you were there".  I also contemplated making a little detour north to catch Game Seven in Detroit, but in retrospect, watching it alone in North Dakota on a 19 inch round screen was probably just as good.  No regrets.
I had plenty of time to think.  What should I call my new website?  jtbourne.com? Bournesblog.com? Nakedchicks.net?  The decision is yet to be made.  I turned back to the asphalt.
Bombing through Indiana, I noticed two things: (A) there are a million of these solar panelled lighty things aiming at the cars, which I assumed were photo radar.  In fact, these apparently light up when there is a deer nearby to keep drivers (and deer) safe.  -and- (B) people still actually work in America.  There are still people on actual green and yellow John Deere's, tending to massive farms and raising animals for a living.  I know that sounds naive, but I guess I didn't realize how much of America was still doin' that.  Pretty cool.
As I twittered, I was pretty impressed by myself around the halfway point, zooming along, issue free.  I was driving across the continent.  I got thinking about what I would do when I got back to Kelowna, and thought about my brother Jeff (condolences on the broken femur, bud) and his fundraiser for the Rick Hansen Foundation.  You know, that guy who WHEELED AROUND THE WORLD??  Talk about knocking me down a peg or two.
Plus, I still had a ways to go:
(That says "turn in 1029 miles")
Between tolls milking me for anywhere between 80 cents and $8.75, I managed to notice some pretty awesome landscapes.  Random rock spires sticking up through the trees in Wisconsin, the skylines of Chicago and Minneapolis, and most impressively, Painted Canyon, North Dakota (in Theodore Roosevelt National Park, the badlands of ND/MT).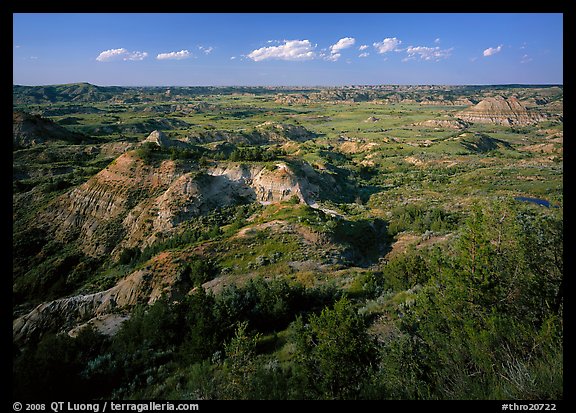 (Can't you just see dinosaurs living here?)
In North Dakota, I almost had a meltdown.  I wish I could figure out how to get the audio (I left myself voice-notes throughout the country) on the blog, because it's hilarious listening to me suddenly realize I don't have enough gas to get to the next gas station, according to my GPS.  I sound like an eight year old crossed with Dennis Leary.
Mercifully, a tiny tourist spot called Medora popped up, offering a single pump with old clicking numbers to fill up in a mock western-theme town.  I figured I had had enough driving for the day, and wanted to catch game seven (you've all been waiting for it… here it comes… I told you so).  The following pictures are of my "hotel room" at sunrise and the bar I had been in the night before:
(Yes, that's a trailer in a pretty setting)
(Yes, that's a failure in a shitty setting)
I had previously spent my nights in Montpellier, Ohio and St. Paul, Minnesota (with Charlie Kronsch's sis Katy and brother-in-law Bo… thanks, by the way) – this was officially Nowhere, USA.  I had been listening to the 9/11 Commission on audiobook, while driving through fields of nothing, so I would have settled for stopping damn near anywhere.
I tried to buy another audiobook in Billings, Montana, but they looked at me like I had asked for the nearest flying car.  Fortunately, I found a Mitch Hedberg CD ("Look at that… either there's a hat somebody isn't wearing or that table is f**kin' hip!"  — "It's a good thing the headless horseman didn't have a headless horse… that woulda been f**king chaos!"), which kept me in stitches until I could find another book.
And so, I embarked on the single longest day of driving I'll ever drive in my life.  18.5 hours, from Medora, ND to Kelowna, BC.  The sun set behind the mountains as I got closer to home, and it literally looked like I was reaching the fires of Mordor.  A 5-hour Energy, a Monster Energy drink, and a bag of chocolate covered espresso beans later, I made it home safely, albeit with a severe case of the shakes.
Two pull-overs, one ticket, and the lives of 55,000 bugs later, I was home.
My trip was 3,200 miles, sitting for roughly 48.5 hours.
Now if you'll excuse me, I think I might need a jog.