Getting The Twit-ch
ShareThis
Today's blog is brought to you by Pete's Party Palace, located at 6492 Fairweather Drive, entirely because it's an excuse to show one of my thousands of moose pictures from college.
Did you know that there is a group of people on the PGA tour that refer to our chubby-go-lucky pal Phil Mickelson as FIGJAM?  Not the coolest nickname in the world, but it's also a little mysterious, right?  I assume you're thinking it's something about his need for a man-zier, but if you were, you'd be wrong. 
It stands for "F–k I'm Good, Just Ask Me".
In a related story, Phil has apparently been seen grooming his back in preperation to be Tiger's doormat at the Masters this year.
Yet still, I love Phil.  He's allllmost entertaining enough to make me watch tournaments that Tiger isn't in (okay, he is).  I've just never seen a sport where second place is so far behind first for such an extended period of time.  I guess Federer was dec. for a while there.  FIGJAM must want to give Tigers other leg a "stress fracture" so he can actually be the big dog he apparently thinks he is.
Cool picture Tigs, just keep that hat on.  I think Tiger's been feeling the recession a bit too, just in not in the pocket book.
Is anything more fun to watch than the Cleveland Cavalawesomes do their mimed displays of pure team chemistry?  I just wrote a draft on team chemistry, and Cleveland is clearly built on it (plus they have that James guy).  I haven't seen routines like that since touchdown celebrations in the '90′s.  Do we have a clip for that?  We don't?  Hmm. Okay, just show Lebron.
That works.
Pardon The Interuption, or PTI as it's better known, is the best talk sports program on TV today.  Its so good it makes other shows unwatchable.  The chemistry between Kornheiser and Wilbon is so great that they can argue without belittling the other guy, and name-call without sincerity.  Plus, they kinda know what they're talking about.  Tony Rially is great and Kornheiser waves a Canadian flag at the end.  Sold.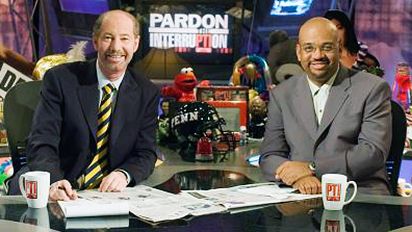 On the topic of TV, I caught a lil highlight package on the NHL network the other day, and saw two plays that excited me to a questionable degree.  Ribeiro goes through his legs, and Kopitar looks bored scoring a one-handed breakaway goal.  A few weeks earlier Ribeiro scored on his own one-handed shootout move. God I love the new NHL.  Here's the through the legger:
Okay, now.  Twitter.  Stupid Twitter.  I'm at the age where I'm fighting against most technology, because even though I know it's great, I can't afford it.  And if I could, it'd just change to something cooler the next day.  So I tried to plant my feet on any new social networks, or popular cultural waves, but the current is pretty strong.  I added my Twitter page to my blog (up to two followers), but I'm just not so sure about it.  I don't even own a phone fancy enough to update it from anywhere other than my couch.
I can't fathom the attention this stupid site is getting.  CNN reports it as real news, SportsCenter gets its updates from it, and 13 year girls get to let everyone know why Ben and  Tristan were sooo stupid in home room today.
The only reason I want it is because it seems to be at the crest of some new media wave, and I'm occasionally funny.  It seems like an opportunity to entertain.  The problem is, I hate the damn thing.  I don't mind being alone, lost, and not thought about.  So it's on my readers.  I'm tempted to take it off.  Do you hate Twitter?  Like it?  Should I buy in?  What's your stance?
[polldaddy poll=1505930]