Every Blog Has It's Day
ShareThis
Okay, I don't know how this happened, but my blog has become a site for animal worship, instead of sports blogging.  I'm afraid the majority of you who are enjoying my blog for it's random support of stupid animal pictures may be disappointed in the coming months.  I'm somewhat fearful of  estranging my male readers.  Sports are my area of expertise, where politics and puppies are my passions.  Since I do intend to parlay this into actual work at some point, I will be switching back to the real purpose. And something about a peck of pickled peppers. 
So, for one final episode, I present the Theme-less Animal Photo Contest.  With help from Bri, I've compiled an assortment of ridiculous animal pictures that I feel the need to share.  There's a place to vote for which picture elicited the best reaction from you at the bottom, so we can crown ourselves a champion.  If you have any great pictures of your own, feel free to leave them in the comments section if that's possible, or just email them to me at jtbourne@gmail.com.  Without further introduction, I give you my all-time faves, complete with comments where necessary.
I know I already posted this one, but come on.  Tough act to follow for the other sniffers.
It looks like it's aware of how stupid it looks, like it's at a rookie party for cats.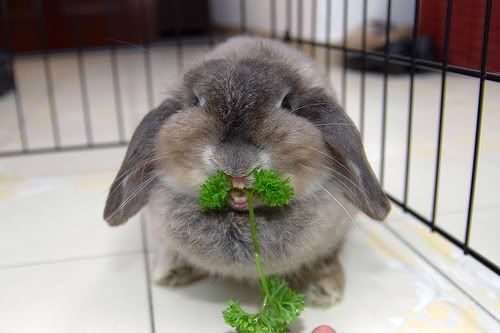 Rabbits like garnish.
Um, I like kittens.
This is my relationship with Bri on Sundays.
Hi.
I named him Gravity.
You couldn't love me more if I were chocolate.
AAAA I'M A CAT THIS IS MY FAAAACCCEEEE
Yoda.  Bathing, I am.
This what this breed is best at.  It's fantasizing about being able to sleep-eat.
Seriously? Take the carrot outta the socket, chum.
I think this is Satchel from the cartoon "Get Fuzzy" as a puppy (best cartoon out there).
If you didn't smile at any of those you're cruel.  These are my best of the best animal pictures.  If you have better, prove it.  Place your votes!
[polldaddy poll=1362815]