Starting now, things are gonna get a bit chaotic.  Don't worry.  I'm here to make sense of it all.
Welcome to the free agency clusterf**k.  The time where teams desperately try to add that missing piece, and I randomly speculate on their decision making despite having half the facts they probably do.  But hey – a blogger can't pass up the chance to pass judgement on a day where somebody might sign Silas Sundin from the Da Vinci Canucks.
I'll be occasionally contributing to a live blog on "Cover It Live" on July 1st - check back for the link to follow the unique analysis as it happens!
*****
For now let me quickly mention that Chris Higgins has been dealt to the Rangers, and Dany Heatley is rumored to be headed to the Oilers (not the same deal).  I sat down for a beer with Jordy Hart and Higgins two days ago, and the guy clearly had no idea.  My thoughts on the trade? 
That guys' got some really sick Nike's.  Pink laces and all.
As for the potential Heatley deal, I feel bad for him.  He's a summertime Kelowna boy like myself, and we've skated together for years in the off-season.  He's a great guy (who's not afraid to scrape the ceiling on a clapper against 15 year old female goalies) that shouldn't have to live in, um, Edmonton.  No offense Edmontonians, but in the scope of NHL cities to get dealt to… you're not exactly Anaheim.  I think he has veto power on this.
See everyone in the morning!
*****
Oh – more bulldog puppies on the way!  In a few days, www.champbulldogs.com has agreed to provide Bourne's Blog with a couple pictures from their latest litters.  Stay tuned hockey fans.  I know how you love when I switch gears.
Are "I'm with stupid" shirts officially the calling card of the socially oblivious?
It seems as fads come and go, there comes a time where everybody sort of agrees "yeah, for sure, No Fear shirts totally do suck".
For some poor soul to head out for a day downtown with this never-that-funny, definitely-not-now tee on, it makes me want to help.  Even it's supposed to be ironic.
It's sole, redeeming quality?  It probably pioneered the sequence of "You looked better on MySpace" and "Your Mom's in my Top 8″ tee's that made me laugh, one time each, five years ago.  Props.
*****
Alright, f**k it, I like Twitter.
There, I said it.
I don't feel good about it.  I'm not smiling while I tweet, proud of being involved in a nauseatingly sweet social device.  I fought it.  I planted my feet in the flood like the Trees in the Lord of the Rings, but I got swept away.
I only follow 19 people, but I can't wait to see what Bill Simmons, Fitzy GFY and Shaq have to say on the daily (actually, not Shaq, he think's he's a bunch more funny than he is).
It combines a potential laugh with narcissistic indulgence.  Who wouldn't want to know I made the best asparagus tonight?
I'm not saying its a good thing.  In fact, I could do with out BarackObama letting me know which representatives to write to influence legislation.  But I definitely see a place in the world for Bill Simmons tweeting about soccer:
"sportsguy33 Third great save of the half by Tim Howard! He's sooooooo getting laid by Lindsay Lohan when he gets back to the States."
 "sportsguy33 Are the announcers worried that if they admit that was a goal it will somehow put US troops in danger?"
Or, my own musings:
"jtbourne I like to touch as many things as possible on the subway to really put my immune system through a good workout."
"ARE YOU NOT ENTERTAINED?!?"
*****
 On July 1st (Canada Day!), free agent signings will be out of control, providing me with ample material to break down.  Stick with me, I'll provide some commentary as it happens. 
No doubt I'll be providing factual, non-judgemental musings.  You know how I do.
John Tavares is a New York Islander, and for that, Isles fans can get excited.
They were never in a position to make any other choice, which is why I was worried that they would (I'm slightly jaded at this point).
Occasionally, sports fans like to look a little highbrow and explain the intricacies of why one player will make a bigger impact than another, mostly just to seem knowledgeable.  In this case, why Hedman would be a better asset for the Isles than Tavares.
Hedman will definitely be a great d-man, but Garth Snow had to make the pick he did.  Tavares has been the consensus number one since he was out of his jolly jumper.  Snow's team just finished last, the Coliseum was full of people dying to buy Tavares jerseys and the team is rumored to be moving to, of all places, Queens.
Who cares if the kid turns out to be the better player; Snowy did what he had to do.  He gave fans what they needed: something to get excited about.  Should be a fun year to watch the Isles!  Party on, Garth.
(Point After – The Tavares pick earned the Isles $200,000 in the first 24 hours following.  Not a bad start.)
*****
This actually happened: I recently heard someone describe a surreal moment as an "outer body experience", and I'm suspicious it wasn't a joke.  Moving on.
*****
For everyone who's asked and wants to see, this is the piece of compressed carbon I attached to Bri's hand to declare ownership.
Thats enough for today.  More on sports later, including the Heatly saga, and the Coyotes ownership bid submitted by Jerry Reinsdorf ($148M).
Some days I struggle to find blog topics, and some days I get  engaged, get a pedicure, and Michael Jackson dies.  But that's just some days.
Disclaimer: Sports fans, maybe skip todays entry.  It's not exactly on the NBA Draft.  I got a f***in' pedicure.  Moving on.
*****
So… I did it.
I told Bri I was writing a follow-up blog for Islanders Point Blank (I originally wrote one on her and I, which you can find under the Islanders Point Blank header above) on our relationship, and that I needed pictures of where we grew up for the blog.
So, we went to our old pre-school and took some pics, and reminisced on anything we could remember.  Eventually, we drove to where we grew up as next-door neighbors and play-mates on Darius Court.  We took a picture there together, reminisced… and I took a knee.  It was pretty neat.
After huffing into a brown paper bag (not really) Bri got it together for long enough to say yes! Champagne all around!
*****
One of my first duties as a fiance was to get a pedicure with Bri.  There's a million places in NY where nice Asian ladies tend to your feet for an extremely fair rate.
Of course, when the lady breaks her power sander on your heel, pulls out buffing supplies from the dark ages and falls behind other nearby pedicures by 15 minutes, you have to tip a little more.  It was hilarious.
A seven year old kid walked in with his Mom who was getting a manicure, pointed at me and said "Mommy, what's he doing here?".  Bastard.
Even though I couldn't verbally communicate with the lady polishing my piggies, we were on the same page.  I was laughing, she was gagging, but in the end, I think she knew I felt bad.  Whatever.  My toes are goah-jus.
*****
And lastly, the King of Pop died – what a crazy career to reflect upon.  It's tough to put on a song by MJ and not have fun.  Let alone have anybody in the room dislike it.
I wonder if he was at the root of more hits or punchlines?  My guess is he wouldn't wanna know that answer.
Thanks for all the positive words from everyone – just keep this in mind:
This has nothing to do with us – we're just trying to breed the super-Islander.  Priorities, people.  Priorities.
Shaquille O'Neal to the Cleveland goddamn Cavaliers, sweeeeeeeeeeeeet!
Their season ticket holders literally have the best ticket in sports – those are two crazy good entertainers playin' for Cleveland.  Last year, the Cavs showed us what team chemistry was about, coordinating routines that probably took as long as the day of practice to develop.
This year, they acquired the single best quotesmith since Yogi Berra to compliment them.  I could care less if they win – I just want to watch.
*****
Currently suffering through So You Think This Isn't The Worst Show On Television (I think that's what it's called) with my girlfriend, mostly because she gradumates tomorrow, so she can do whatever she wants today.  Possible having my first pedicure (no homo) later today with Bri… Bauer Bumps, alien toes and all.  Some poor lady has no idea whats about to walk through her door.
Well, here I am, back in NY.
I must have cashed in a bunch of hard-earned airport karma — Due to some computer malfunction, I ended up with first class seats.  Have you flown that way before?  My God.
The bathroom had a wood floor.  The dinner was great.  Drinks were included.  Movies were free.  They give your confidence a light massage, and your ego a mild boost.  It's wonderful.
I'm sure that bankrupted my Airport Karma Account, so I'm looking forward to seat 36B between two sumo-enthusiasts on the way home.
*****
So, I wonder if I've ever really ruined some air-travellers day following a day I've flown:
I consistently use the vomit bag for my gum.  And, of course, I don't take the time to fully open the bag.  I just jam it in the top.
Can you imagine the snowballing misery of having to puke on the plane, and not being able to get the bag open wide enough to get all the "refund" in?
Wonder how that's affecting my airport karma.
*****
So, I sat by an intervention guy on the plane, a real one.
This guy was flying into JFK, getting into a car, and driving to some bad 15 year old kids house in Connecticut –  Waking him up at like three or four when he gets there, and dragging him back to Utah for some wilderness rehab time.
He used words like "full nelson" and "clean" and "Mormon".  Yeah, nothing'll straighten out a misguided youth like spending a week in the woods with a Mormom.
I waited 'til he fell asleep to order my second drink.
Mickelson reminds me of a hockey team that fights so hard all game to keep their 1-0 lead.  It's their only goal – preserve that lead. 
They fight like dogs, block shots with their, lets say… jaws, and play as a unit. 
The second that lucky goal goes in to make it 1-1, the wheels fall off. 
It looks like Phil has one goal:  Catch that leader.  Which, he almost always does, then follows up by playing the next three holes with his brain on pause and the throttle stuck in overdrive.
The guy has finished second at the US Open either four or five times.  He played great today, so it was a bummer to see him finish like Derek Boogard shooting with a shovel.
*****
In the non-golf world, my house in Kelowna has become a bird sanctuary for birds that lack common sense.
A robin (named Batman) has built a nest above the speakers we have on the deck.  Instead of discouraging this, my loving mother has cut down deck-related activities 50%, and put a pillow under it in case the babies fall out.  My mom makes Martha Stewart look like a convict.
…Wait…
*****
Well, I'm off to New York tomorrow for Bri's grad, which is on Friday.  Pretty standard itinerary for me: Kelowna (four a.m. wake-up) to Seattle, then to Salt Lake City, and eventually on to JFK (11:45 p.m.).  Another breezy travel day for the kid.
But don't fear!  I now have a BlackBerry (Balsillie, I hate you… but that's some product).  As much as I'm annoyed by the site, the name, and the simplicity of the concept… I will be twittering.
Forecast of morning phone calls, afternoon beers and midday naps… God I love travelling.
*****
Oh, and get well wishes to my brother who is back in the hospital with a busted femur (hey bro, at least you get those great mints after the smashed peas and diced carrots they've been cooking since you were a fetus).  Love ya.
Before I launch into a super-insightful, fact-filled blog (nnnnnno.), let me wish a Happy Birthday to my Dad, as well as a Happy Fathers Day.  The 'ol two for one, tough break!  Love ya.
Stuff is happening in the sports world – We're in the thick of the US Open, the Jays are on TV everyday (and the Mets could basically be the "Vets" they're so wounded), the NHL draft is near, free agent signing day is approaching… but I've got a couple observations first.
*****
Style observation:
You know those bad ideas that seem like good ideas at the time… but just aren't?  You know, ideas like…
 Zubaz: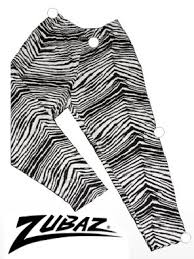 High-wasted acid-wash overalls:
Um, any outfit that involves mesh and leather:
(and/or this pose)
You know, stuff you eventually end up really regretting when you look back at pictures?  (Think of every female haircut in the 80′s)  Let's give a big round of applause for this groups newest inductee, Affliction t-shirts.
(and I didn't even put a sparkly one up – those are siiiiiiccck!)
Nothing like wearing gothic themed skulls and bedazzled flames to say "I wax my eyebrows and highlight my hair 'cause I'm a badass".
Moving on.
*****
Hospital observation:
Fact:  Females are generally more compassionate than males.
Fact:  Medicine and health care are complicated subjects.
Thus, it makes sense that many of our smart, pretty young women go on to be nurses (and of course, doctors).
But as far as the nurses go, isn't this the last place in the world men would want to see pretty, smart women?  When they're helpless, incontinent, whimpering, crying and generally helpless? 
Nurses are one last injustice to really salt the wound that has you in the hospital to begin with.  No male should ever have to discuss their frequency of bedpan use after three showerless days with someone capable of looking hot in scrubs.
*****
Golf observation:
What can we do for Rocco Mediate?  We need to find some way to re-configure this humans body.
He's the greatest guy, but he's built like a sock full of oatmeal.  This guy's got more ass than J. Lo.  He's competing at the highest level of a professional sport, but looks like he put down his double-cheesed nacho's to attempt a half-court shot at a minor league game.
I wish him the best – he's one of the last professionals to truly speak his mind, show emotion, and generally be real.  But bud – maybe mix in a jog.
*****
So, Phil's in the hunt, and you can't help but feel that he's meant to win.  It's in NY where they love him, and he always plays well.  They recently discovered his wife Amy has breast cancer.  The guys in the lead aren't exactly rich in experience.
Either way, he's the guy I'm behind tomorrow.  And if you aren't, then you're cheering for cancer.  Remember that.
Go Phil!
*****
Oh, and one more thing:  The recently featured "Flutebox" was an unreal, well received YouTube video – here's another thing you can't do, courtesy ma boy, Josh Ciocco:
I've come back to add something to the blog I've already posted, below: I watched some of the NHL awards, and loved, LOVED, how nervous Evgeni Malkin was before his speech, it was so endearing.  Could you imagine barely speaking English, being 20, and having to public speak in front of tens of thousands in Las Vegas?
Everybody was humble and fairly nervous.  What other sport is that possible?  God that made me proud.
********************************************************
Shocker, it rained allll day on Long Island today.  At least the forecast looks great: 60%, 40%, 40%, 40%  chance of skin-pruning, unrelenting wetness.
That's what it was like the day I caddied there.  Identical weather.  Somehow, I lacked the veto power to stop the round since I was the caddy.  Another shocker.
I just can't fathom trying to play a course that's over 7,400 yards after its rained 30 of the last 45 days.  "Next on the tee, from The Ark, New York… Noah!"
You know what else I can't fathom?
Running shorts.
Is having the extra two inches of fabric to look socially acceptable weighing your thighs down that much?  And to top it off, they have to have that little cut up the side to really emphasize the feel of being naked/looking like a fairy?
I've finally come to grips with the concept of running.  It's a cheap way to stay in shape.  I can understand this.
I just can't understand the shorts.
*****
So, odds are you don't give a f***, but bear with me:  My first piece of PR writing is on a website, and going in our local magazine, Okanagan Life.  Here's the link if you'd loooove to see the dynamic copy writing I do.  Hey, maybe you need some done.
http://www.redmillpropaganda.com/propaganda/home-with-big-city-swagger-available-in-the-okanagan/
Or, maybe you like when I show pictures of bunnies, write curse words, and break my face playing your favourite sport.  Whicheves.
Great news hockey fans – the US Open starts tomorrow.
So… time to talk golf.
The US Open will be played at Bethpage Black this year, which just happens to be located 20 minutes from my lady friends place on Long Island, and provides the perfect opportunity to explain what getting punked by your father-in-law-to-be feels like.
I wake up after my very first night at the Gillies abode (I'd just started dating Bri), somehow with the idea that I'd be playing golf with Clark (a zero cap at the time) in the morning at a course with the above sign by the first teebox (this morning is/was a major point of contention between him and I, my contention being that he'd asked me if I'd like to play the night before. Hence the somehow).
I crawled out of bed before six to get to Bethpage Black, a public course I'd seen on TV and dreamed of playing.  You have to get to Bethpage before the rooster is awake to have any hopes of getting on.  It was raining.
If the rain was a minor disappointment, the following was the cartoon anvil that fell and destroyed my day: I was informed by Clark that they suddenly had a full foursome (his contention being that they had one all along). 
Would I like to caddy?
Well no, I'd like to play, but I'm up, and I've never seen a US Open course, so sure. 
By the way, you'd have to carry two bags.
Really?  Shit.
Ah whatever, I'll earn a little money.  Hey look, it's still raining.
And so, this is how it came to be that on my very first day in Long Island while dating Clarks daughter, I carried two bags around a soaking wet 7,300 yard golf course at roughly 4 a.m. Kelowna time. 
Think Clark and his buddies have some laughs at my expense when they have a few gin and tonics?
In the interest of giving both sides equal time, I'll tell you exactly what Clark says when he hears me bitch about that day.
His side?  I'm the worst caddy in history - and the only one to consistently hide under an umbrella while the players clubs get soaked.
Meh, they're made of metal, and hey, do something bad enough the first time and you'll never be asked to do it again.
At one point, it did stop raining…. just in time for him to tell me they were going to play 36 holes, the next 18 at Winged Foot.  That was the moment I realized it was all on purpose, and I was being hazed (though he still won't admit that's true).
All jokes aside, Clark paid me well and has taken me golfing a ton of times since, so my complaining has become mostly tongue-in-cheek — though I am seriously suspicious that the whole thing was a test.
In the end, who cares.  I learned this much:  I'm no Steve Williams, and you have to have a decent sense of humour to hang with the Gillies.
I've still never played the course.
I'm not sure why the sports networks are so insistent on using Redfield T. Baum's full name, Redfield T.Baum, but it appears the guy made exactly the decision I needed down in Phoenix, shooting down vacant-eyed DingleBerry inventor Jim Balsillie.
As I mentioned earlier, I met with the head of the 'Yotes marketing department, Mike Bucek, and still hold some hopes of being a part of their staff.  There's probably easier jobs than marketing the Coyotes right now, like being a deep-sea diver without oxygen, but I'm excited about the potential challenge.
"Your 2009-2010 Phoenix Coyotes: Now offering small 401(k) contributions to season ticket holders!"
*****
Anybody happen to catch Guerin's interview at the Penguins Stanley Cup parade?
He represented everything the playoffs does to a guy.  Pale, haggard, and hung-the-f**k-over.  He sounded like he started hacking darts the second the final buzzer went, and finished the pack right before his morning baileys and coffee.  Man, champagne hangovers must suck when you're trying to keep up with 20 year olds.
*****
And lastly, for today, I'd like to thank the Mets for reinforcing what they've already made clear: being a fan is a struggle.  Not the way being an Islanders fan is.  Being an Isles fan, you know there is zero Cup hopes by November, and you start finding little positives and hopes for the future.
The Mets tease you, string you along with moments of greatness, and just when you let down your guard — wham!  Dropped ball by Castillo, loss to the Skankees, beatdown loss to the Skankees, I hope that hurt you stupid mook Mets fan.  It did.  Thanks for that.
It must be frustrating getting back to work on Monday, reading my blog, and all I've done is post a must-see video that requires sound.  Wait 'til your boss is gone and turn it up.  I was turned onto this video by the boys at Vantage West Realty in Kelowna.
Well, that was a good time to be computer absent for four days hey?  
Now, the Pens just happened to grab games six and seven to win the cup, right?  I think I heard that somewhere between towns with names like Punxsutawney, Gary and Limestoneville.  F$#k.
I'm destined to be haunted by orange "Road Work, next 21 miles" signs and flashing lights in my rearview, but all in all, it was a wonderful trip.  I truly enjoyed driving across this beautiful continent (save a few hundred miles west of Minneapolis), and wish it wasn't over. 
Let me proceed to judge every person in the US by what I thought of their state, simply going on what's visible from the highway, while taking the time to piss them off individually, and with care.
As Katy Perry playfully belted "I kissed a girl" in the background, I set sail due west, aiming my freshly registered car Duke towards Chicago (Duke has 666 on his license plate, and is blue.  You know?  Duke?  Blue Devil?   Ah, forget you).
I shot across the Throgs Neck, a bridge more narrow than a Klan members mind, and eventually over the vast Hudson towards the Jersey Turnpike.  The turnpike blends in well in New Jersey, because it absolutely sucks.  I needed to get out of this car-infested smog hole and onto the open roads away from major cities.
My GPS advised "Keep left on I-80″ and the distance-to-next-turn indicator read "261 miles".  And away I went.
Now, I don't know who comes up with state slogans, but I'm pretty sure I could do better.  "Ohio.  So much to discover." — "North Dakota.  Legendary." —  "New Jersey.  Come see for yourself."
How about "Ohio.  The C+ on America's report card." — "North Dakota.  Worse than Saskatchewan" — "New Jersey.  Seriously, think about it, our only contribution to America is Bon Jovi."
I was really tempted to turn into Sandusky, Ohio, but settled on just reciting Tommy Boy lines out loud to amuse myself.  "RT, you were there".  I also contemplated making a little detour north to catch Game Seven in Detroit, but in retrospect, watching it alone in North Dakota on a 19 inch round screen was probably just as good.  No regrets.
I had plenty of time to think.  What should I call my new website?  jtbourne.com? Bournesblog.com? Nakedchicks.net?  The decision is yet to be made.  I turned back to the asphalt.
Bombing through Indiana, I noticed two things: (A) there are a million of these solar panelled lighty things aiming at the cars, which I assumed were photo radar.  In fact, these apparently light up when there is a deer nearby to keep drivers (and deer) safe.  -and- (B) people still actually work in America.  There are still people on actual green and yellow John Deere's, tending to massive farms and raising animals for a living.  I know that sounds naive, but I guess I didn't realize how much of America was still doin' that.  Pretty cool.
As I twittered, I was pretty impressed by myself around the halfway point, zooming along, issue free.  I was driving across the continent.  I got thinking about what I would do when I got back to Kelowna, and thought about my brother Jeff (condolences on the broken femur, bud) and his fundraiser for the Rick Hansen Foundation.  You know, that guy who WHEELED AROUND THE WORLD??  Talk about knocking me down a peg or two.
Plus, I still had a ways to go:
(That says "turn in 1029 miles")
Between tolls milking me for anywhere between 80 cents and $8.75, I managed to notice some pretty awesome landscapes.  Random rock spires sticking up through the trees in Wisconsin, the skylines of Chicago and Minneapolis, and most impressively, Painted Canyon, North Dakota (in Theodore Roosevelt National Park, the badlands of ND/MT).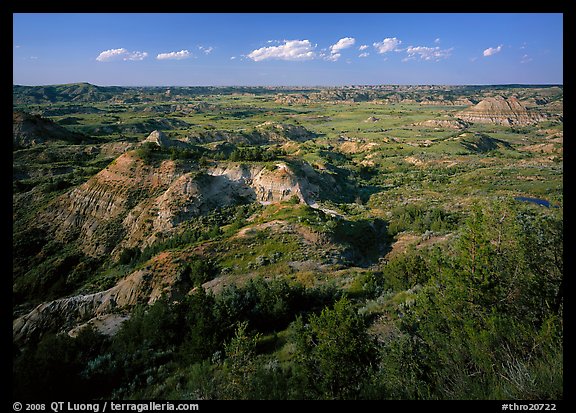 (Can't you just see dinosaurs living here?)
In North Dakota, I almost had a meltdown.  I wish I could figure out how to get the audio (I left myself voice-notes throughout the country) on the blog, because it's hilarious listening to me suddenly realize I don't have enough gas to get to the next gas station, according to my GPS.  I sound like an eight year old crossed with Dennis Leary.
Mercifully, a tiny tourist spot called Medora popped up, offering a single pump with old clicking numbers to fill up in a mock western-theme town.  I figured I had had enough driving for the day, and wanted to catch game seven (you've all been waiting for it… here it comes… I told you so).  The following pictures are of my "hotel room" at sunrise and the bar I had been in the night before:
(Yes, that's a trailer in a pretty setting)
(Yes, that's a failure in a shitty setting)
I had previously spent my nights in Montpellier, Ohio and St. Paul, Minnesota (with Charlie Kronsch's sis Katy and brother-in-law Bo… thanks, by the way) – this was officially Nowhere, USA.  I had been listening to the 9/11 Commission on audiobook, while driving through fields of nothing, so I would have settled for stopping damn near anywhere.
I tried to buy another audiobook in Billings, Montana, but they looked at me like I had asked for the nearest flying car.  Fortunately, I found a Mitch Hedberg CD ("Look at that… either there's a hat somebody isn't wearing or that table is f**kin' hip!"  — "It's a good thing the headless horseman didn't have a headless horse… that woulda been f**king chaos!"), which kept me in stitches until I could find another book.
And so, I embarked on the single longest day of driving I'll ever drive in my life.  18.5 hours, from Medora, ND to Kelowna, BC.  The sun set behind the mountains as I got closer to home, and it literally looked like I was reaching the fires of Mordor.  A 5-hour Energy, a Monster Energy drink, and a bag of chocolate covered espresso beans later, I made it home safely, albeit with a severe case of the shakes.
Two pull-overs, one ticket, and the lives of 55,000 bugs later, I was home.
My trip was 3,200 miles, sitting for roughly 48.5 hours.
Now if you'll excuse me, I think I might need a jog.
Justin just began his journey driving across the country from New York to Kelowna… keep up with his whereabouts on Twitter!
He will be back in blogging action in a few days… -Brianna
Today, in New York:
I had my first cannoli.  Probably enjoyed quoting   "The Godfather" more than I did the actual dessert.  "Take the gun.  Leave the cannoli".  A little embarrassed that today was my first cannoli.
*****
Clark wasn't around today, because he was playing golf at Deep Dale with Michael Goddamn Jordan.  Awesome.
*****
Went to The Hangover.  Mike Tyson did the funniest Mike Tyson parody I've ever seen.
*****
Got NY insurance on my car.  Cost in Utah? $107 monthly.  In NY?  $301.  Can't wait to change it the second I leave this state.
*****
The biggest news?  Charlie Kronschnabel, American league superstar (you're welcome, Chuck) is a decently smart guy.  I've been looking into pricing for building a website – somewhere that Bourne's Blog can nestle in without being judged by the other WordPress blogs (which by the way is a wonderful program).  Charlie literally just did it.
The launch date is nearing because he hooked it up for free, so I'm super excited about it.  More info to come.  Lets go Pens!