Thoughts, notes, and unqualified opinions from a relatively-qualified source:
What's with the end of the Canucks anthem?  They've got that whole epic people-united thing, then the guy caps it off by intentionally missing a half-dozen notes?  Awesome trademark man.
*
Puck drops and gets pushed deep in Vancouver's zone to start the game, and the first guy that could finish his check in the series for the Hawks didn't?  I'm curious about the thought process on that one.  Isn't the first line of the first game trying to set the tone in the first period?  Haven't you switched the dial from "stun" to "kill" yet?
*
How about me touting Jonathan Toews' "just play the game" attitude, and early in this game, he does exactly what I discouraged in my latest HockeyNews blog.  He comes at Willie Mitchell, acts angry and skates at him – weird, there's a linesman between us -  Then, in a telling turn of events, the ref gets out of the lane and Toews could get to Mitchell, but opts not to.  Smart play.
*
Wellwood – your eye is black, you got cut on the forehead with a high stick… WEAR A G.D. VISOR!
*****
As I start watching the slightly delayed (thank you DVR) 2nd period, I have to note something.  I just watched the fourth quarter of the Celtics/Bulls game (also recorded), and that series has easily become the all-time-best first round playoff (basketball) series I've ever watched.  I've got it paused before overtime so I could get back to the hockey, with a glass of wine at my side.  Oh, April… once again, you've outdone yourself.
*
Jim Hughson, after Seabrook bombs a one-T over the net: "thank goodness that didn't hit anyone" … – ain't that the truth.  Two shots from my puck-related pics file:
 *
Props to my Dad for predicting how this game would go so far – Guys like Wellwood and Kesler chipping in, and that Van would jump out to a good start, despite the run-of-the-mill "rust" predictions the rest of the pundits were spouting.
*
Upon further review, maybe Wellwood should wear a cage.
*
3-0 after two.  Canucks fans would be planning the parade, if they weren't the most cynical, jaded group of fans with hearts of scar tissue.  Its okay to love again guys… let the '09 squad in…
*****
I know the PGA has gone with the slogan "these guys are good", but Kane snapped that wrister in a softball sized pocket, elbow joint and in.  These guys are good.
*
Okay, um, I set my computer down to soak in that period.
Two good things for Canucks fans:  You got the win, and you clearly looked like the better team.
One bad thing: The Blackhawks were virtual no-shows tonight and managed to come back from a 3-0  deficit to tie it up with under six minutes left.
I have to imagine it's easy to feel comfortable when you're up three with Luongo in net, so I'm not that mad at 'em.  As much drama as the media will pull from this (and as much as the NHL is beside itself), tonights game was probably just the case of a good team getting comfortable in their big lead at home.
(Hawks…  The transition for the Canucks game-winning 4 on 1 wasn't even quick!  What the F was everyone doing?)
In conclusion?  Game one was everything it was advertised to be ("They're gonna beat the Hawks in a nail-biter of a series, one full of emerging stars and ticket-selling drama") – and the Canucks got the big 'ol W. 
Sleep easy Canuckleheads.
Playoffs, wow.
And I'm supposed to provide insight on this madness?  I can't do it.
I won't.
I couldn't.
…I will.    You know I will.  Let's cut to it.
The (3) Van-goddamn-couver Canucks vs. (4)The Chicago Younghawks
I figured since it's the only game tomorrow, I better make sure to weigh in on it.  Here's what's up:
We're dealing with the Blackhawks, a team on the rise (remember "Buy! Buy! Buy!"?), versus, the Canucks, an impenetrable defensive force with just enough firepower.  The Blackhawks are stacked with caterpillars – they've even seen a few develop into gorgeous butterflies (this is a f***ed up analogy, scrap it), but do they have enough? 
The Canucks have every team in the NHL beat in net, a massive checkmark in any head-to-head series.  Khabibulin is good, but nobody can equal Don Corleone Cannoli Mcponytail Roberto Luongo in net… (PS, I'm teasing folks… no Italian distaste here). 
On D, I'd rather have the Hawks corps for my fans but the Canucks D for playoffs.  Ya gotta love that little bitta bite of a group that boasts only one guy under 6′ 3″, and that's the face punchisizing Kevin Bieksa. 
Up front, I've got a biased opinion - I played in the WCHA agianst Burrish (underrated, for now), Dowell (and Skille), Chicago players that may be no-names to the average NHL fan, but players that I know can kick it into overdrive.  Set those guys next to Havlat, Kane, Sharp, Toews, Versteeg (with extra's like Ladd and Pahlsson?) and they've got the edge on a very good crew of Canucks up front.
So here it is, prediction one of round number two:
I won't abandon you Canada – defense and goaltending wins championships.  While noting that I'm online shopping for a Blackhawks hat for next year so I can claim to have been a lifelong fan (PS, great original six jersey's aren't they?  This is a battle of gorgeous uni's.  Only missing the Isles third jersey for the hattrick), let me bold-ify my pick:
(3) The Vancawesome Canucks… eh.
They're gonna beat the Hawks in a nail-biter of a series, one full of emerging stars and ticket-selling drama.  The NHL is more than slightly aroused at the product they're about to offer their ravenous fans.  It's gonna be a rollercoaster.
*****
How about these matchups?  As much fun as round one was, it's already at the best round.  With eight teams that make picking a winner like buying a lottery ticket, the "anything-can-happen" vibe is stronger than ever.  Is there more than a team or two you couldn't see holding Lord Stanley's at years end (or even one?)?
I love it because you couldn't watch more than two games a night in the first round anyways, so now you can follow it all without missing a thing.  Plus, the teams are better (beat it, Blue Jackets - the adults are talking).  So enjoy the warming weather.  Maybe knock it around for 18 holes.  But if you aren't a part of your couch in your nightly comfy's for round two, you've failed yourself as a sports fan.  Enjoy, folks.
I told you so.
In the other series, one of the red teams shot it into the other red teams net twice late in the game (sarcasm aside, it was a pretty thrilling finish for all the Canes fan), effectively moving up what I was hoping would be a conference final to a semi-final, Pens v Caps.
****
How bout the Ovechkin-bashing from the colour guy in that last game?  Advising him to dump it in?  This is exactly what coaches do that makes players go beserk, but to advise it to The Great Eight is ludicrous:  "Don't take guys on one on one, get it deep, pass the puck"… Ovie's top 10 would be on the NHL's all-time top 20.  You want the individual shockers, you deal with a couple turnovers.
*****
I hate the prevent defense teams go into when they have the lead, it's like football.  Teams start shredding teams who suddenly change their defensive tactics in an attempt to defend their lead, and tonight, the Devils paid.  Plus, I think Marty already had a vacation booked.
*****
Predictions, praise and snide remarks on round two to come!  Stay tuned!
(Round one totals:  6 -2, with one definitive down 3-1 "The Caps will advance" that counts as a bonus ball)
Barring a backlash from the readers, I'm thinking about abandoning the series by series nightly breakdown.  I kinda like keeping it random.  So here's random:
*****
Fighting is like duct tape to a hockey player; it damn near fixes anything.  If you aren't playing well, fight to shake it up.  Coach thinks you don't care?  Scrap.  Your team's losing?  I have an idea.  Try fighting.
My whole stance on fighting is broken down in my latest piece for The Hockey News (out tomorrow, I believe?), but I just love Joey T. comin out scrappin'.  If duct tape is the solution finder, Joey was wearing a lot of silver out there to start the game.  Good tilt.
*****
Driving home from the Kelowna Rockets/Vancouver Giants game (the one I left when they were down 4-2, the same one that they won 5-4), I heard the Flames GM Daryl Sutter doing an interveiw pre-recorded from a game he attended earlier in the year.
The man sounds like how I'd parody a Canadian accent.  At the speed of Cleveland from Family Guy, he worked in a couple ill-formed sentences that involved a tractor full of "eh's" and sounded like wheat fields look.  I can only imagine the coach-imitations that the players bust out after the third pint.
*****
Chris Pronger's a dork.  It really makes you realize that you can have all the money in the world, a bunch of talent, fame, you name it… but you just can't shake dork.
I remember running into him a few years back and he had his belly-button high tapered jeans barely reaching his sneakers, with a tight tuck on his golf shirt and a hair part that makes Al Gore look edgy.  Probably a great guy, wonderful player, yada yada yada… you just can't shake dork.
In his defense, being a dork isn't necessarily a bad thing.  I've got dork friends.  I do dork stuff (um, I blog).  I'm just sayin'…
*****
So this happened today:
Today, I went to call my lovely girlfriend Brianna in NY.  I picked up the house phone, and dialed the 631 number.  Unfortunately, my cell phone rang at the same time.  I decided I'd try to answer it quick before Bri picked up.
It was me calling. 
In my defense, I'm part Ukranian.
*****
So the Blackhawks advanced.  Not to toot my own horn, but — ba-ba-ba-baaaaa!  That brought me to 5-0 in playoff predictions (only to have the Ducks break my goose-egg minutes later – stupid fowl). 
I don't know what you do now if you're a Sharks fan, aside from dress in bubble-wrap to cushion the fall off the bandwagon.
So here goes Tuesday, exciting night in the NHL.  The Caps and Rangers go to game seven, and uh… damnit who're those other teams…oh I forget.  But ya!  Caps-Rangers, neato!
Well folks, we have a game seven (I think there's one in some other series that involves teams with red jersey's, I'll have to google that after).
It's just chaos in Ranger world.  People getting suspended, goalies getting pulled, players getting bitten… Dubinsky needed a tetanus shot?  Was Morrison rabid?  I'm obviously not up on what qualifies needing shots, I just assumed they were something you get when you need to hit more homeruns.
Game seven in this series should be a lotta fun, and it's gonna come down to Tretiak Varlamov.  If he's able to play even decent, the Rangers don' t have the offense to create a bunch of goals.  Breaking news, Washington does.  I'll be ready with my "I told you so".
*****
Couple great games tonight!  The 'hawks go into Calgary and try to get the series first road win.  If the Flames hope to stave them off, we're gonna have to hear the name "Jarome Iginla" more than we did in the last game (My Dad pointed that his name hadn't come up once and it was out about 15 minutes in).
Big games for the Sharks tonight to avoid the oh-so-close collective meltdown of their fans.  I'm fully rooting for them after the highlight of Thornton trying to fight Getzlaf at the drop of the puck in game five (PS, that fight would be like 13 feet and 300 pounds of man, no big deal).
*****
Damn, Celtics/Bulls tied at two after a double overtime thriller yesterday.  Not a good sign for the Celts.  It's looking like Lebron and Kobe are in the HOV lane on the way to a head-to-head finals clash.
I'm totally pumped that for Bourne's Blog's 100th entry, I get to drop this news:  THE NEW YORK JETS DRAFTED MARK SANCHEZ TODAY!  When Favre left, I was worried next year wasn't gonna be as much fun, and boy, was I wrong.  I wasn't fully on his bandwagon when he was at USC, but I'll drive it now.  Fun times ahead.
J-E-T-S JETS JETS JETS!
Damn.  NostraBournemus is off to a good start.
Today's (4) Penguins victory over the (Gonzo)Flyers pushes me to 4-0 in playoff predictions and has me a little excited about Pittsburgh.  Falling behind 3-0 on the road and coming back to win 5-3 in Philly is no easy feat, and speaks volumes to this teams belief in themselves.  Let's not forget they're the defending Eastern Conference champs. 
I loved when Gonchar scored to make it 4-3 and they cut to Philly's bench.  There's a Flyers fan behind them pointing at the coach with one hand and making the execution hand-to-throat gesture with the other.  The Flyers:  Always good.  Never great. 
Congrats to the Pens, but most importantly, the Islanders, who with Bill Guerin helping the Pens advance to the second round moved up from a fourth round draft pick to a third.  …hurray…
*****
(1) San Jose Sharks vs. (8) Anaheim Ducks
To quote my Dad, regarding Joe Thornton's first playoff goal: "huh — he finally got off his surfboard".  And how true is that?  Joe "I play on xanax" Thornton finally managed to make an offensive contribution, and the Sharks won.
I feel like every game these two teams have played could have gone either way, and obviously tonight was no exception.  To say one team has a lick of an advantage is hogwash.  I'd love to see Thornton catch fire, it's probably hard to focus on the ice when there's - "such killer waves, man" – going on outside.
*****
(4) Chicago vs. (5) Calgary
In discussing this game tonight, a few of us agreed on one thing:  Last night was going to be a huge game for both teams, and it would be a fair indication of who's the better team, who's better coached, who has more talent etc, since both teams would be at peak performance for pivotal game five.
And it wasn't even close.  As lovable as the Flames are (okay, not lovable, but they have Iginla and play in Canada), it was just really evident that the Hawks are on the way up and Flames are fairly "whatever".  The Flames will need a special effort to win in Calgary (game six will be close, and you can quote me on that), but the 'Hawks made it clear tonight which team has more going for them.
*****
Quick sidebar, as I watched Mike Richards interview after being eliminated it reminded me of something.  No matter how much losing hurts, and worse, being eliminated, there was always an interesting feeling when the season ends.  You feel guilty for it, but it's a bit of relief.  It's tough to explain, but I guess you've been focused and grinding so hard to get wins that when you finally get eliminated and it's over, there's a weird weight off your shoulders.  Obviously it's not a good thing, but I know at the end of every season (a lot better feeling when your last game is a win, of course), there's a definite weightlessness that sets in.
(2) Capitals vs. (7) Rangers
Some notes:
a) First things first, a game with no Sean Avery.  Bold.  Delicious.  Refreshing.
Not that I think the guy is capable of learning or anything, but there's nothing like a national shaming to knock a guy down a peg.  I think the Ranger train may have hit a penny on the tracks…
b) Matt Bradley, my God.  What I was expecting (a semi-awkward deke followed by him catching an edge) did not happen, and man was it awesome.  A tremendous personal effort to put the Caps up one and get rolling.
c)  Kozlov is awful.
d)  Um… Ludqvy?  What the mo happened on that goal?  The worst part?  I didn't have time to make a bet on tonights game, and he's clearly hungover.  Curses.
e)  I love how they cut to a shot of Tortarella after every Ranger penalty like he might turn green, rip his shirt, and physically strangle an equipment manager.
*****
f)  I just got home from my brothers where I watched the remainder of the game (aka it was on in the background while we drank and grilled cheeseburgers).  Ovechkin proved his mettle for the ten millionth time (was he serious with that goal?  My God.  For all my readers, I want you to know Ovechkin is better than me at hockey, just for a little perspective), and the better team won by playing up to their potential.
Wasn't tonight exactly how the series was supposed to go?  The Caps would thump-up the outmatched Rangers and we'd wait to see who they'd play next?  When I see a team so clearly better than their opponent and play like it, and then realize they're down 3-2 in the series, I have to ask questions about their coach.  Bruce Boudreau should not be free of examination in all this – those guys needed to be ready for playoffs.  Forget who you're playing… it's playoffs.
I have not yet – and won't – waver from my Capitals prediction until they're eliminated.  I think they'll win in OT in MSG on Sunday, followed by another beatdown from Russiatown in game seven.  The Caps will advance.
g) After my early game mention of Tortarella, the guy basically did the exact thing I mentioned he might, except he turned green and had to be restrained before he killed a fan with a stick.  No wonder they cut to the guy 1500 times a game.
One game tonight?  What is this, the third round?
It's okay… I'm talking myself through it.  Maybe I could watch a basketball game after… or, I suppose I could get a life and leave my house on a Friday night.  Or,  just watch a basketball game.  Yeah, I'll do that.
(2) Caps / (7) Rangers tonight folks.  Do or die time for the Washington Funtowatchitals.  Back into that crazy sea of red.
Lundqvist is going to have to come up big  for the Rangers tonight or it could be a beat down.  A desperate young team, back at home, playing with their backs against the wall… I think we might see a little pace outta the Ovi-led Caps.  All they need is Vaslav Fomich Nijinsky (I think that's his name) to play well in net tonight and they'll be fine.
*****
I'm up to 3-0 in my playoff predictions, but it's looking like a series other than the Caps one is in serious jeopardy.  The (1) San Jose Sharks are on the verge of having to answer a whole host of awkward questions I'm sure they don't feel like answering, questions along the line of "What the f*** was that?"
I really do think Anaheim has put together a nice little playoff squad over there, but that's not supposed to matter.  Breaking news San Jose, you're the Presidents Trophy winner.  You've got a nice little squad too.  I was really hoping for better for Thornton, he seems like one of the good guys.  But you know what they say.  Nice guys finish first, but only until playoffs.
*****
I'm gonna do a little 180 here and ask a few non-hockey questions, because apparently there's an entire world happening off the ice.  But they're still about sports.  Let's not get too crazy.
***
- Isn't saying Bocci-ball a bit redundant?  "Bocci" is pretty self-explanatory, really.  There's not much chance of us playing Bocci fork, or Bocci wheels, is there?
***
- How tragic is John Madden retiring?  You know you had the career of a legend when people reflect on it, and they realize you managed to trademark words like "Boom!" and "Turduchen", while gambling websites offered less than one to one odds that you would make more than three food references during any given telecast.
***
- Doesn't it suck that TCIKG  (The Completely Insane Kevin Garnett, as labelled by Bill Simmons) is missing the post-season for the Celtics?  You know you're a guy teetering on the brink of madness when PTI sets the over/under at three for "how many on-camera profanities will viewers at home be able to discern from Garnetts mouth"
***
- Have Alaskans officially crossed the line to  crazy?  Occasionally I get invited to join a group on Facebook called "conceal and carry on campus" for Alaskans, a state of people who are already allowed to be packing heat in their belt, and would like to be able to do it on University Campuses as well.  …yeah… I see nothing wrong with that.
***
- Why does Bill Simmons have to love basketball so much?  The guy's writing makes me laugh everytime, even when it's about a sport I don't pay a ton of attention to.  My favourite recent explanation of his was that it's easy to tell that someone is an a-hole if someone describes a person by using their own name. 
"How're things working out with Bill lately?"
"Well, you know, Bill is Bill.  He's gonna do his thing…"
*****
Alrighty folks.  My next piece for THN was just sent in, so keep your eyes peeled for that.  Also, The Hockey News just sent me five copies of their April 26 magazine, the first one I've had an actual print article in.  So that was kinda neat. 
Also, the lady and I have recently set our sights on Scottsdale (or Glendale) for a home.  She got a nice job offer, and I've got a meeting with the Coyotes marketing guy Monday (assuming the Coyotes don't move).  And hey, who out there isn't aching for an increase in Coyotes coverage
Tune in to TSN tonight so you can catch the Caps thumping the Rangers!
A few round recaps, followed by a few rant hash-outs.  Enjoy.
(2) Les Capitales vs (7) New Stupid York
(Prediction: Washington   Series: NYR 3-1)
In general, my predictions have made me look like I sort of know what I'm talking about.  I'm up or tied in most of my series.  Sadly, in a moment of weakness, I picked the Capitals to win the cup.  I'm not selling out on them.  They can still do this. 
But times are dire.  Down 3-1, I'm facing the obvious fact that my Ovi-awe may have skewered my vision.  Are they tough enough?  Do they have the goaltending?  Probably not.  But dude.  Ovi is sooooo good.
(1) Beantown vs (8) Montreal
(Prediction: Boston   Series: Boston wins series, 4-0)
I'm not sure which Montreal d-man it was that set up Boston's Michael Ryder for the one-timer right down broadway, but I wouldn't be suprised to hear he was found downtown with his jersey tied around his neck and a fleur-de-lis up his you-know-where.  That was exactly how you would want someone to set the puck up if you were in the hardest shot contest.  Yikes.
(4) Blackhawks vs. (5) Flames
(Prediction: Blackhawks   Series: Tied, 2-2)
What a roller coaster. 
That was one of those games that fans love to watch (5-4, wow!) and coaches hate.  A turnover laden debacle, this game had more bad plays than off-broadway. 
While Calgary tried their hardest to let Chicago grab the game, the 'hawks never stepped up.  Even after blowing three leads (2-1 in game one, 2-0 in game two, 4-1 in game four), the Flames have held on to make it a good series.  And by good, I mean there's a chance we may get to see Iginla finally blow that gasket that we can all plainly see is under a heightening amount of pressure, and we might get to see someone commit the world's first actual on-ice murder. 
 Chicago is likable and chalk full of talent; they even seem to have that extra bit of edge (and if I may say something Don Cherryesque), that good amount of Canadian playoff style to go with their talent.  They're just so young, it's tough to know if they'll realize their potential.  But if I'm Jim Cramer from Mad Money, I'm pointing you towards Chicago's stock and yelling "Buy! Buy! Buy!" 
Let's hope we don't see them go bye bye bye.
(Playoff Prediction Record: 2-0)
*****
Okaaayyy, okay, that's a lot of hockey coverage lately.  I'm still super into it (it's just heating up) but here's a little lighter fare for readers who don't drool on their baggy couch clothes the second the Hockey Night in Canada song comes on (or the second whatever-it-is-that-Versus-plays comes on for my deprived American friends).
Lemme switch gears:
1)  You know how sometimes you're watching TV at someone else's house and the volume is wrong?  You stew on it.  It eats at you.  Something needs to be said.  "Hey, would you mind turning the volume up a bit?"
Inevitably, someone hits the up button like a half dozen times.  Now it's too loud.  And you can't be a complete dick and correct their correction.  That's just being demanding.  I wanna know… what is wrong with the double-button-push?  If other people are watching television with you, and not complaining, the volume couldn't have been too far off.  Two in either direction can make things right, I promise.  Which brings me to my next point.
2)  Old(er) people:  I understand that your hearing goes a bit as you get older.  You like the TV louder, but for some reason, the radio quieter.  I'm not getting into that now.
But in movies, the volume will fluctuate.  People whisper.  Theres car chases.  Guns.  Tender moments.  Not everything is meant to be heard on the same plane.  It adds to the intensity of dramatic moments, and to the sincerity of quiet ones. 
I feel like every time I let an elder run the remote for a movie and someone whispers, we need a TV extension to read how far the volume bar stretches across the screen.  Just a thought: triple digit volume is never necessary.  Nothing better than the transition from the whisper to the car crash at volume higher than Courtney Love.  I like that ringing sound to last for hours.
3)  Speaking of asking people for moderate favours, is there any bigger f-you response than "will do"?  Is there any chance anybody is actually following through, taking notes on, or even thinking of that thought again after saying "will do"?
"Say hi to your folks"  … "Will do"
"Call me on the weekend!" …  "Will do"
"Dismiss me in the most demeaning way possible without using any unkind words"  …   "Will do!"
4)  Phew, long rant.  Here's an observation:  I enjoy my tuna sashimi (the observation is coming). 
On the east coast, it has a nice dark pink colour, with little segmenty deals in each slice.  On the west, it's a light flesh colour – equally delicious, but totally different.  So, um… yeah.
To my non-hockey readership:  This constant coverage will eventually end.  But it's like The Masters.  Certain sporting events are worthy of daily attention, plus, I'm in Canada.  Obama could kidnap the Queen and forclose on the White House and our leading story would be:   The Canucks Are Killin' It!  Wooooo!  Canucks, Ya!
(2) Caps vs (7) Rangers
(Prediction: Capitals   Series: 2-1 NYR)
I'm not in love with the Caps beating the pants off the Rangers in MSG tonight.  I love that they beat them, don't get me wrong; I've not yet wavered from my belief that the Caps are a premier NHL team (in fact, I've claimed that they'd be this years best).  But the beat down they laid to NY tonight may have been too much.
Hockey, like all sports, is just so mental.  The Capitals played the first two games like they believed they'd be handed the series based on talent.  I'm worried tonight might put them back in the mindset they seemed to have in the previous two games.
On a different note, I hate Sean Avery.  He's not that bright, as much as commentators like to chalk up his antics to plotting.  He's barely a step above acting on base instincts, and the second the game was out of reach he needed to make sure he grabbed his share of the attention.  He's a clown, an absolute clown.  I'm mad at myself for mentioning him.
(1) Boston vs. (8) Montreal
(Prediction: Boston   Series: 3-0 Boston)
Recently, I was explaining to a guy how I loved the majority of NHL arena's for their solidarity in colour: red in Washington, orange in Philly, the white towels in Van.  His comment?
"Plus, we can look forward to all the light brown in Montreal.  They'll all be wearing bags on their heads".
Ouch.
(4) Hawks vs. (5) Flames
(Prediction: Blackhawks   Series: 2-0 Blackhawks)
When Iggy gets that fire goin' he's a force.  If you were a player on the other team, he'd be one of those guys that is fired up and chirping at you, but you totally respect him, yet on the other hand, you can't let him treat you like a punk in front of everyone, so you half-heartedly chirp back.  In retrospect, sorry to the Ferraro brothers, I felt obligated.
We have a good seeerrries heeerreee….
(3)Canucks vs. (6)St. Louis
(Prediction: Vancouver   Series: 3-0 Van)
Goodnight sweetheart, well it's timeee to gooo (or however that old song goes).
Na na na na – hey might have been a more suitable reference.  Either way, great job by the Canucks getting a road win in St. Louis tonight, effectively laying the Blues in a hospital bed and hiring Kevorkian.  It's only a matter of time now.
(3) Devils vs. (6) I Don't Carolina
(Prediction: New Jersey   Series: 2-1 NJ)
They played today, and one of the two teams won.  Again.  Can you believe that?
(4) Pitt vs (5) Philly
(Prediction: Pittsburgh   Series: 2-1 Pitt)
Ooo, the Flyers got it done on home ice, love it.
This was going to be a good series if Philly could hold up their end of the bargain, so it was good to see them inject a little life into the deal.  If Philly doesn't stretch this thing out and Pitt ends up winning in five, the Penguins become a real threat for the Eastern crown.  And then we'd have to watch the many phases of Sid's mustache, including the shredded wheat phase, where the hair gets all straggly and long, it gets in his mouth, and he can chew on it.
(1) San Jose vs. (8) Anaheim
(Prediction: San Jose   Series: 2-0 Anaheim)
I have to admit, I was a little under-informed on teams in the western conference when I arrived back in Canada 10 days or so ago, and since I've been back, I haven't heard too many good things about the Sharks.  Presidents trophy champions that are below .500 in their last 36 games?
San Jose is by no means done; this is a quality team, and pride is a powerful motivator.  Hopefully a couple losses will wake the sleeping giant.
Speaking of sleeping giants, can big Joey T (1.01 points-per-game regular season, 0.67 playoffs) wake-up, crush an espresso or 12 and get it together?  I love him as a player (especially his attitude), but he looks like one of those golf carts that you know can go super-fast, but isn't because it has that stupid govenor on.  Find the switch and flip it Joe!
(2) Capitals vs. (7) Rangers
Oooo boy, the Caps are in dilly of a pickle.
Lundqvist was dynamite tonight, and the Caps looked frustrated.  It's tough to explain those games where you just can't seem to get anything going – a testament to how the Rangers played defensively.  By no means did the Rangers outplay the Caps, but to take two games in a row in your opponents building… Wow.
The insanely skilled Caps look like they're lacking a little touch of grit actually, though they've been all over the Rangers, and simply been stymied by Henrik
Or, maybe I have jinx power?  Hmm.  I think the Hurricanes will win the east.  The Capitals will dress Kozlov next game and play him more.  The Islanders will miss the playoffs next year.
(2) Celtics vs. (7) Bulls
Bulls 105 – Garnett-less Celts 103.  Hmm.  Oh yeah, and the Yankees are (tragically) down 20-2 in the fifth inning to Cleveland.
(1) Bruins vs (8) Habs
Boston is sucking the fun out of the series by being better than Montreal at hockey.
See, what happened tonight was, Boston kept passing the puck to each other, and then shooting it into Montreal's net, which made it difficult for Montreal to get their turn with said puck.  Just a plain and simple rout.
Note from a friend: Who's the worst superstar in the NHL?  Every NHL All-Star is lined up against the wall, and you and someone else are picking teams, who's the last guy waiting to play?  His contention?  Marc Savard.
And he was close.  But after searching the roster, my only question is – what the mo is a Dustin Brown?  Honorable mention to Tomas Kaberle, Shane Doan, and which ever Stall it was.
(2) Detroit Redwings vs. (7) Columbus Tee-Times
Chris Osgood, on a similar theme to the above section, may have achieved the biggest differential between potential-for-success-based-on-ability and success-had.  I feel bad saying that, because he lives near me and I fear I'll be defending this paragraph someday (because I'm sure he's an avid reader) – but come on.  In which year of his career would have referred to him as one of the best in the league?  Maybe his statistics were top five for a few years, but a shooter-tutor would have shut the door behind some of those Redwings teams.
He played in the NHL during pinnacle of the defensive days, and on one of the best teams.  His numbers are really quite impressive, but what was his VORP (the baseball stat, Value Over Replacement Player, meaning if you took any replacement player and put him in that position, how much better is the player you have actually playing the position that that guy.  It's a complicated stat, but you get the idea)?  It had to have been negative.
Oh, um, Detroit won tonight, by like, four.
(4) Hawks v (5) Flames
Heart-break hotel tonight for many-a Flames fans.  Man, those people were like Mosquito's in Saskatchewan when they almost won a cup, clouds of them swarming every watering hole.  Can't say I've seen too many Flames flags flying about lately.
It reminds me of the chart I saw month ago, about how people get their news now: Newspapers were going down, online was going up, and they intersected right around last year.  I feel like the Chicago Onlines may not be a ton better than the Calgary Newspapers yet, but it's happening.
A few short hockey thoughts prior to today's action:
1.  Let me preface this thought by saying this is completely unfounded, it's my own speculation, and it's not rooted in any fact. 
The first thing I saw when I saw Shawn Thornton running around in the Habs/Bruins game was: "that guy's on steroids".  NHL steroid testing is slightly better than non-existent, and I played with a couple kids who openly used while I played.  Don't think guys don't - we're not baseball by any means, but I'd speculate a guy per team.
And in all likelihood, Shawn isn't one of them.  In fact, as a reader recently pointed out (and not in the kindest way), I was thinking of (and comparing him to) Scott Thornton in his early days.  Totally different player.  But it doesn't change facts.  Players use, and the league's testing policy is not all that stringent.
2.  Just cleaning out a few hockey notes here:  Are you serious with that Fleury save on Carter?  It's not even like Fleury got all the way across the net, it looked like Carter took a moment to savour it, which let Fleury get halfway there (which was an exceptionally feat in itself).  Then Carter compounded the nightmare (score and the series is 1-1) by sliding it mid-net.  That was the series turning point.
3.  Okay, Scott Hartnell, the hair isn't exactly trendy or cool now that you've done it long enough for us to think you're serious.  Now you've just been making a bad decision for way too long.  You look like Sideshow Bob.  Or Anderson Varejao.  Which brings me to today's picture comparison center:
, Mats Sundin's eerie Terminator black eye:
, And Luongo / Jon Decaro (my college goaltender, both 6'4" and Italian):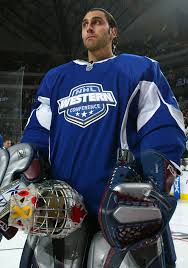 3.  Lastly, for now, I saw Marty Havlat's interview yesterday, and thought he sounded like a Newfy pirate.  Great player and all, and more than likely just French, but yeah.  Newfy pirate.
Okay!  Caps/Rangers is underway, battle of the Red, White and Blue!  See you back here tonight!
I have a thousand things written down to talk about, but I'm gonna lose readers if I write a senior thesis on why Bill Guerin is good for Sidney Crosby, why it's awesome that Bob Cole referenced the Van Damme hockey-related movie too, or why the call on Knuble was bull-shit.  Other thoughts:
(4) Pittsburgh vs. (5) Philly
Bill Guerin is awesone for Sidney Crosby.
Damnit.  I did it anyway.
Crosby mentioned how he feels like more a part of the team because Guerin makes fun of him just like the other guys.  And that was the point I was trying to make in my Guerin piece for Islanders Point Blank. 
Comrie was new, but Guerin was the first to break the ice with Lizzy McGuire jokes – floodgates open. Some teams never have that guy, and people start assuming topics are off-limits.  Before long, the dressing room feels stuffy.  The Yankees need to call CC Sabbathia fat, teammates need to call Sam Cassell E.T., and the Caps need to point out that Ovechkin is good at seemingly everything except being attractive.  It's not meant to be hurtful – you find whatever you can in the dressing room, because as I've mentioned before, the best defense is a good offense.
Nobody's flawless, so if your twenty teammates aren't playfully pointing those flaws out, they don't like you.  And thems the facts. 
Bob Cole says: "Bill Guerin is your hero, here in Pittsburgh…"
Glad the Isles got that burdensome salary off the payroll; he only scored 20 while playing with junior kids as linemates on the Isle.  Plus, he's probably only the single best dressing room guy in the league.  Whatever.  I'll get over it.  Look out for Pitt now…  Who wants their favourite team to draw them next?
(3) Devils vs. (6) Hartford
One of the teams won in overtime, apparently.  This is totally important, because the team that does that the most gets to play in the next round, get selected the underdog, then go on to beat some well covered/liked team and drain the interest from the conference final.  I'm eager to see who it is.
LIVE BLOG ON THE CANUCKS GAME ABOVE