I'll tell you why:
Guys don't remember shit.
It can be a Monday afternoon at some dive bar with buddies, and if a girl is there, anything you do or say can and will be used against you in the Court of Long-Term Conversation.  Girls remember everything.  You'll run into the same girl from that Monday at Ikea fourteen years later and she'll say something like "How'd that job interview with the Prime Minister go?"
You're brain immediately starts processing old lies like an early 90′s IBM.  This never would have happened with your guy friends.
The ladies remember.  A half-cocked barstool claim is supposed to hold the weight of helium.  It kinda takes the fun out of it when you have to back it up.  "Thought you were gonna lose 15 pounds?"
Ouch.
Plus, when you talk with girls, you kind of have to have that filter on.  You can be edgy, even coarse, but you you still have to keep it on this side of reasonable.  Guys say some outlandish things to their buddies without a second thought, whether it's a real opinion or not; shock value is half the fun.  There's always that fear of some girl in your group dying laughing at your crude friend's gay and racist jokes, then turning to stone at your orphan one.  Curses.  Thought she was an exception.
You know what else guys like about hanging out with guys?  You don't need evidence for your opinions like it's a history test.  "That guy's a dick" may not be evidence enough for marks in class, but hey, it's good by most dudes.  Girls ask follow up questions.
"Why?"
"What'd he do to you?"
"Did you ever think that maybe you feel that way because — stop.  No.  I haven't thought about it beyond the last word of "That guy's a dick".  I don't like him.
We don't need each others re-assurance that we're liked or good enough from each other.  Girls constantly have a pulse on the conversation, keeping tabs on the vital signs of all the relationships at the table like a surgeon.  We are oblivious to that stuff.  Who needs that extra stress?
Four guys could sit at a bar and one could contribute absolute zero on the Kelvin scale.  He could sit in his chair, chuckling and drinking his beer, and nobody would think to ask him if he was okay, what's wrong, or playfully say "you're awfully quiet."  The real bonus of dudery is, if one of the guys is talking too much, we're able to make simple statements like "Dude, shut the f%$& up".  Girls are so afraid to hurt feelings they'll let "that girl" hold the mic all night.  Stop her, please.
It's fun to go out with guys because the next day the previous night is over and behind us.  For all the dumb comments and bets I've heard guys make, I can't remember more than two.  But, I do remember two.  I'd like to use this forum to remind the losers of the only two high school bets I still remember how much they suck.  This is fun.
One:  Dear Paul Hampson.  Ryan Beckmann was right.  Gretzky scored 92 goals the year he set the NHL record, not 96.  After all that passionate debating…. you lose.
Two:  Paul, I've got your back on this one.  Like we said we would, we beat all takers in four player NHL 2000.  Including the highly advertised, doubly publicized sell out event where our opponents nearly cried, thanks to Corbett's heavily biased verbal chastising.  You know who you are out there.  I mean really, who freezes the puck in video game hockey?
I'm not making the claim that guys never like hanging out with girls, I'm just saying we do enjoy our just-guys nights.  Hell, my girlfriend is a ton of fun.  But there's always that risk…
Hey, last night when you said….
Ohhh boy.  Herrre we go.
*Context for the top shelf of the picture below:  It was college, we lived in that place for 3 years, and we lived in Alaska.  Regardless, we had some pretty stupid conversations in those days that've gotten swept under the rug.  I Charlie Kronschnabel Guarantee it.
I arrived in New York last night and walked off the plane and into the oh-so-familiar (and questionable) odors  of JFK.  I've really come to feel that NY is my second home.  I think people love it in the way you love that ratty old sweatshirt.  As soon as you walk into the baggage claim there's a sea of (generally non-white) drivers holding signs with people's last names, as well as a slew of taxi and car service drivers waiting to take people to their destinations.  It's completely different from other airports where people have friends and family pick them up.  Just drivers everywhere.
Bri and I are running out to meet a couple of her friends, but I wanted to quickly document some thoughts.  New York pizza, bagels and deli's are exactly what you hear about throughout the rest of the US and Canada.  They aren't overrated, it's just the best damn (unhealthy) food you can track down.  We had two slices for dinner today, and it was unbelievable.  This thin, crispy but not dry, perfect doughed-delight is last-meal worthy.  You can go places where selling pizza with pepperoni on it is an inconvinience for the staff.  They churn people in and out so fast, largely because most people just order an unspecified "slice", which is just cheese. 
 "Gimme a slice"
"Yeeea, no problem boss".
The deli's can be a bit nerve-wracking, largely because if you don't have your order ready, they'll just point at the person behind you for their order, leaving you to feel like a rejected American Idol contestant.  The best part is that they aren't chain deli's, or chain bakeries, or chain pizza places, just some guy who opened a store.  But it's worth the pressure, the sandwiches are so damn good.  The Soup Nazi isn't that unrealistic a character in this city, but you'd risk it to watch them cut that Boar's Head meat and stack it Empire State Building high. 
"How bout those f#$%in Mets?"
"Ah.  F#$? em."
I've only had NY back in my life for a few years, and I love it.  I don't have time to do it justice, just know that NY can feel like home when all the people around you seem to be in constant chaos.
Because I love it:
See ya at the Isles game tonight!
I remember watching Tiger Woods win his second US Amateur Championship somewhere around a dozen years ago.  I must admit, in the early days of le Tigre, I was not a fan.  I was a Freddy Couples man.  I loved the idea that you could win a major championship while looking like you poured milk over a bowl of muscle relaxers and called it cereal.
But no, of course not, that was too good to be true. Tiger Woods had to come charging in with his "fitness" and "energy".  I feared we were going to lose the hangover's only known comfort, lazy Sunday afternoon golf. 
"Shhh…. quiet please.  Els stands over his 6 foot putt for par…… …. he backs off."
But Tiger's fire didn't damage golf, it made it exciting.  I can still get lulled to sleep by Bob Costas giving me a verbal massage while they pan around the pretty flowers at Augusta, but when it comes down to the big finish, I would no longer dare being caught in a doze.  There's usually a Tiger afoot.
It's tough to believe in most athletes nowadays, with steroids, scandals and other disappointments.  And it's easy to be a negative Nancy and predict these failures, because true greatness is rare; thus, betting against it is easy.  For years there was always a group of people who thought Tiger was a flash-in-the-pan. 
Those people no longer exist.  From negative sports commentators (Skip Gayliss) to the most positive (Bob Costas), everybody is in Tigers corner.  Eventually, I think you realize you're watching something so rare and special that you want to be a part of it.  I jumped on Tigers bandwagon (which is a semi-truck with a Ferrari engine) years ago, and have been loving every minute since. 
He's classy, intelligent, and crazy competitive.  And his wife is dumb hot, but um, I suppose that's irrelevant.  I say we enjoy the next 5-10 years of Tiger's peak, because he makes golf that much better.  He's forced everyone else to be better, and I can no longer imagine my Sunday's without him. 
Rock on Eldrick.  Congrats on breeding an heir.
Afterthought:  I've scoured the net and cannot find one suitable compilation of Tiger highlights that I feel accurately represents his greatest shots, largely because the volume of them is so huge that the lists get narrowed down.  "Best short game shots", "Best shots in majors" and similar titles are often the heading for Tiger lists.  I've been watching Tiger shots for almost an hour and his top ten highlights from list to list rarely include more than one or two of the same shots. 
220 yards from a bunker over water with the tournament on the line in the Canadian Open?  Six iron to 15 feet.
The running point he did after a long par putt to stay in contention at the US Open?  Legendary.
Jarring it from the fairway on 15 for eagle to move one back of the Matthew Gogle, the leader (who he eventually overtook)?  Count it.
What about any of his nine aces, or the ridiculously long putts he's canned on British Open greens?  Unimportant footnotes.
But, if you've read my stuff recently, you know what I consider the best shot of all-time, in any sport.  Better than Ovechkin from his back, better than the Michael Jordan (push-off, but who cares he rules) jumper against Utah in the finals, better than Kirk Gibson's shot outta the park.  Screw Christian Laettner.  The best shot ever goes to….. :
(I put the long version on for context, enjoy the two minutes)
IN YOUR LIFE HAVE YOU SEEN ANYTHING LIKE THAT!?   Of course, Tiger goes on to take The Masters.  Poor DiMarco had to putt after that.  If you see the shot from different angles, Tiger has a moment of heart-break when it looks like it's not gonna go in.       It does.
I've been consistenly befuddled at how many more emails and comments I get on my random-thought-blogs than my serious ones.  I guess they bring a broader subject matter for people to weigh in on.  In the same spirit, here are two things that made me laugh out loud today:
I really just like the first bit of Demetri's there, hilarious.  And when that guy does the full-cheek-exhale when Tiger walks in, I busted up too.  Nice work Nike, now just stop employing 8 year olds overseas.
PS. After opening birdie – eagle, Tiger is up one after seven holes.  Well done young Jones, hangin in there!
As this writing thing develops, I'm finding that anyone who wants me to write for them wants me to write about my experiences or opinions on all things hockey.  Which makes sense, because it's what I do for a living.  And, since I have a notebook full of hockey topics, I've got years worth of material (now who's laughing at my journal?).  So, I spend my time these days getting back to a normal lifestyle and writing about my sport for those folks interested in reading about it.  Occasionally though, I feel the need to indulge myself, much like a visit to a psychologist, and just talk it out.  Here's what's been rattling around in my skull.
Important snack update: Orville Redenbachers "Buttery Salt and Cracked Pepper" popcorn is dyno-mite.  I'm finding that the thing I missed most about having a functional chew-hole was snacking.  Everything is such a process when you have to condense it to smoothie form.  I had a few swing-n-a-miss attempts at dinner during that time, including a Chunky Soup Beef Stew smoothie that corkscrewed me into the batters box.
Yes.
Do Not Blend.
I know it's not the most original subject matter, but is there any situation where more people at once are thinking "here we go, just my luck" than on a Southwest flight when the "C" passengers start rolling aboard?  You gotta love fat-guy-middle-seat roulette, where all the A and B passengers have taken every window and aisle seat available, and that guy that has NO chance of getting an armrest down ambles aboard and casually decides who gets awarded 3 shitty hours of thigh to thigh clammytime.  In the event of a water-landing, your floatation device is probably eating honey-roasted peanuts.
Bri and I just finished watching all 6 Star Wars movies, and absolutely loved them (we decided that the best way to spell the sound of a light saber is "wuowww").  Star Wars is exempt because they're science fiction movies, but it brought to light something in movies I've been smouldering on for awhile.  YOU CAN'T WIN FROM THE HANGING POSITION.  Ted Williams hit .406, Michael Jordan's career field goal percentage is under 50%, but guys in the hanging position with certain death looming below escape somewhere around 80% of the time.  If the bad guy is standing over you while you hang, you don't really have a whole lot of viable moves to chose from.  A Jedi maybe, but probably not a Hobbit.
Lastly, the type of stupid stuff I love is fully enveloped in a single 20 postcard book themed "breaking bad news with baby animals".  If you can track this thing down, it's definitely worth a flip through.  I could only find a couple of them online, but come on:
I love that the cats are in the mailbox like they're new information delivery medium. 
So yeah, there's some of today's Seinfeldian lighter fare.  Go get that popcorn!
Golfers love their bad jokes.  Putts left short inevitably bring about the "putter in the purse strings" barb, and duffers rush to be the first to say "one" after the ball falls off somebody's tee.  A good break may even call for a classic: "The sun even shines on a dog's ass somedays".  Well arf arf  Brendan Jones.
Brendan won the insta-fame lottery when Tiger Woods decided to make his return to golf at this years Accenture World Match Play event.  Now, I shouldn't call Brendan names; in fact, he's racked up 8 victories on the Japanese Tour.  But, being the dead last player to qualify (64th), means he's earned the right to have Tigers Nike swooshes rammed where the sun happened to be shining on this particular day.
Brendan is from a town so obscure in Australia there's still people who think they're criminals in exile.  But this week, his Mom is doing phone-in-interviews, and Brendan is the man of the moment.  And like he should, he's making it count.  He's had some wonderful quotes since embracing his 15 minutes.  After stopping for pictures for a number of different media outlets, Brendan headed to the podium to give a little press conference.
When asked if he's had any tips from two Australians who have eliminated Woods from this event in the past (Peter O'Malley and Nick O'Hern), Jones replied "No, I haven't, but I've gotten some advice from Stephen Ames."  Last year Ames apparently had the lobotomy required to challenge Tigers driving accuracy in the media before their match, before promptly losing 9 and 8.  For the record, if I, my mother, or my Aunts Shih-tsu were to play Tiger, the very worst he could beat us is 10 and 8.  Self deprecating humour from athletes gets me every time.
After making the mandatory Tonya Harding-esque jokes about thwacking Tigers knee if he starts losing and humbly accepting defeat beforehand, he mentioned that, of course, he doesn't plan on rolling over on the first tee. 
Which leaves me thinking.  What an opportunity.  What a win-win.  If he loses, it was expected, plus he had front row seats to the comeback of the greatest player of my generation, most likely the greatest of any generation.  With that safety net, he has the opportunity to beat Tiger Woods in a nationally televised match, which is about as likely as beating an actual tiger in a nationally televised cage match.  But it's an opportunity nonetheless.  And you never know.  Even a blind squirrel finds a nut once in awhile.
PS.  I wanted to name this bit "Spumoni" in reference the Will Ferrel's safe word from Semi-Pro when he fights the live bear, but I thought the reference was too obscure.  Regardless, I think Jones should work out a safe-word in case Tiger comes out playing like his old self.  I suggest "Gillooly".
Educated journalists seem to have a healthy distaste for bloggers, and I don't blame them.  If I studied for seven years to be a surgeon, and saw some mook cutting into people because it looked fun, I'd be skeptical too.  Especially if said mook started to have some success.
The weird thing is, I don't like blogs either.  They're incessantly negative (if you can't get attention with your talent, extremely polar views seem to get reactions from people), full of parentheses (damn), and without space constraints.  Real writers, like Mitch Albom and Rick Reilly have been outspoken in their opposition to blogs.  The problem is, with the general dumbing down of our society (shout outs to The Hills and celebrity magazines), bloggers occasionally write in a voice that more readers can relate too.  In short, you can't write anything too smart or you have a smaller audience.
But people earn their qualifications in different ways.  Brett Hull and Garth Snow are managers of NHL franchises, not because of college degrees in management, but because they played the game at the professional level and gained their knowledge there.  Barry Melrose is hockey's liason at ESPN, not because he's a sports journalist, but because he knows what he's talking about (or at least Amercians believe he does).
In all aspects, reporters write while other people do.  Politicians write legislation and make major decisions, while high and mighty reporters with 20-20 hindsight vision judge.  They have time, fact databases, researchers and editors to thoroughly destroy or applaude whatever the goings-on may be in the politcal forum, the sports world, the art community.
CNN, ESPN or any of the major networks push the events of the day through their own prisms and broadcast the biased views of their station to the public.  Fox News and CNN can make the same event feel like Darth Vader was on both sides of a topic.
This is why the best journalists to read are the ones who don't hide their bias, but speak openly and honestly about why they hold that bias.  Jon Stewart is a great example of someone who labels himself a democrat, and will defend his views with logic and clarity.
A small set of people seems to have the potential to tarnish the appearance of a larger group.  Not everyone from the Middle East wants death to America, but there are people in the US incapable of making that distinction.  As my Uncle has explained to me, the best way to write is to show, not tell.  Bloggers who make comments that cross the line of extreme have tarnished the idea of blogs for other writers with a voice.  Brett Favre doesn't "suck", though you wouldn't know it from reading blogs.  He threw a crap-load of interceptions, as the stats will back up, so tell me that.  Explain to me why the Jets are better off without him. 
I'm new to the blogosphere, and so far it kind of weirds me out.  It's offered me a neat platform to tell some stories and prove I can write, but it's hard to fault educated writers who knock people like me.  But the only way to get better, like in the sports world, is to practice, practice, practice, and for that, not only am I glad to have this forum, but I appreciate having readers who seem to like it.  So here's the filter my writing will get pushed through:  The Jets, Mets and Islanders rule, I would label myself a democrat because of the liberal views I hold, I frickin' love sports (the baseball season is too long), animals (anything with "oodle" in it doesn't count) and having some laughs.  I hope you like it.
On why Mitch Albom hates me (bloggers):     http://deadspin.com/5153058/mitch-albom-has-a-few-things-to-get-off-his-chest
On why Rick Reilly isn't a fan of blogs either:    http://deadspin.com/5157404/rick-reilly-still-unimpressed-with-blogs–but-wants-everyone-to-know-he-actually-likes-the-sports-fella
   Because you know the story of this picture.
Because the grass is so green you feel like the contrast on your TV is messed up.
Because you can see the pressure on the players faces.
Because the field makes the ocean look shallow.
Because they try so damn hard, gearing their games up for months to play well that one week.
Because Tiger owns it.
That guy's name is Hootie.
It's the only tournament that even non-golfers know about.
Tigers chip in on 16 was the most exciting shot ever.
The name "Amen Corner"
The green jacket is the most awesome prize in sports to recieve, even though thrift shops would turn it down.
I love that last year's winner puts the jacket on the new guy.
I love the white guy jump Phil did when he won.
I love that Fred Couples has won it.
I love that the course is so prestigious that playing it is the one and only thing on my bucket list.
The bridge, those pink flowers, the water, the fact that nobody can play it for a month before the tournament.
56 minutes of actual golf coverage an hour, as opposed to most majors, which is like 5.6 minutes.
I love the pin placement on 16 on Sundays.
I love the corny montages with the slow music they play that can make you cry if you like golf enough.
I love that every male figure in my life will be talking about it for those 4 days.
I love that it's accepted to not leave your house on the weekend when it's on, no guilt involved.
I love how Johnny Miller is morphing into Charles Barkley, completely avoiding any attempt at sugar coating the types of opinions you only expect to hear three whiskeys in.
I love that the players are so nervous coming up 18 you can always tell who's about to puke on their shoes.
Because they started advertising for it in January.
Because if you win it you're set on the PGA Tour for the next 5 years.
Because it's a part of the best month in sports, April.  The Masters, NHL Playoffs, NBA Playoffs, College Hockey Playoffs… yes.  Sign. Me. Up.
I love that every hole has name like "Camelia".
I love this logo:
Because this is what number 12 looks like:
I love that the tournament has been decided by one shot or a playoff 36 times.
Because it elicits more emotion than The Notebook from generally stoic professionals.
I love that you love it too.  April 7th – 13th, hold all my calls.
My thoughts are a murky, sluggish assemblage of half-organized sentences this morning.  Since I'm back in Boise for the week to finish my doctor visits, I went to the Steelheads game last night and caught up with the guys after.  I'm treating the next person to suggest I get braces like Rhianna (oooh …too soon?).  The following are things I remember from the bar last night that I feel are worthy of mention.
-Crocs are the sweatpants of shoes.  If you're wearing them in public, you've given up.
- My bartending buddy Jake shaved his one year beard, apparently letting go of his dream of playing Gandalf in the Lord of the Rings 4.  He had, apparently, read my bit on the awkward mandshake (thats copyrighted) and went out of his way to make me uncomfortable during our hello.  In hindsight, thats funny.  In current sight, TIME just ran a piece about the new handshakes and hugs of men.  I feel so relevant.
- Girls are getting a little presumptuous.  As my readers are probably aware, I'm a happily taken man.  Last night,  I leaned on a foosball table, and one of the metal poles that the mini-Pele's are floating on moved to the other side of the table, poking some girl in the back.  She turned around, held up her engagement ring and said "nice try".  Really?  Is this a common form of attempted pick up, the foosball pole in the back?  "Oo, Janine, that guy keeps ramming a metal handle in my back, should I go talk to him??"  I hate the bar.
- I furthered my old person stance on crowded bars last night.  I like to drink, but I'd rather do it with people I like and somewhere I can actually hear them.  I think I'm officially over putting myself in a stew of  drunk girls (oh my god no waaay!) and dudes who want to enforce their place on the food chain, which from what I can tell, has Italians just over lions, but just below rich kids.  Having 20 teammates at a bar is the ultimate trump card to the tough guy bluff though, so I enjoyed that.  Eddie describes Italians better than me.  Beware, awful (hilarious) language:
Maybe it's just because I'm a tad hungover and have the stupids, but I'm dying laughing right now.  There's a famous YouTube video I'm sure a lot of you have seen that I've been watching.  So,while I'm abusing Italians (which is really odd, since I don't actually hold any prejudice), let me recommend the video "My New Haircut" on YouTube.  Talk about the bar scene in a nutshell.  The language is just a little too bad to put on my blog (especially the start), so Mom and those of you who are here because of all the animal pictures, you don't need to look at that video.  Everyone else, you do.  Yes Dad, you need to check it out too.
http://www.youtube.com/watch?v=4JMOh-cul6M
- Hockey players aren't that bright to begin with, so talking to a drunk one is like communicating with particle board.  It boggles my head-meat that girls continue to enjoy their company.
- Here's a big one:  I think I'm over mustaches being funny.  It was a great little gag for a bit there to be in your 20′s and shave in a ridiculous mustache, but I kinda think I'm over it.  I feel like George and Kramer telling Jerry the "helllooooo" voice is passe.  I really feel bad saying it,  I'm sorry.  But it's over for me.
Anyways, those are my little thoughts for the morning.  Back in Boise means back to blogging.  I've finished my second little bit for The Hockey News, which is exciting, mostly because of the response to the first.  I shaved the first submission down from 1550 words to 700 with some help, so the meat of it will be printed in the magazine soon!
Parting facts: NBC showed an excellent hockey game today.  Alexander Ovechkin is the most electric player ever to play hockey.
And the best news of the day….. Drumroll please…..  NBC ran a commercial in which Tiger Woods is simply tying his golf shoes and whistling "Eye of the Tiger".  At the end they display the words "He's baaack".  Hurray!
How sad is the decline of the newspaper?  2008 marked the first year in which more people got their news online than from newspapers.  It's probably not a tragedy for my own aspirations as a writer, but there's something classic about reading the morning paper with a cup of coffee.  I love shuffling outside in my slippers to get the paper, checking out the weather, bitching about it, then enjoying the tactile sensations of the cover page, the sports section, and the comics (I keep hoping my interests will expand with age, but unfortunately, I still have very little use for sections with titles like Money or Life, since I have neither).
I do a lot of reading online, mostly because I enjoy the constant turnover of fresh material in exchange for no dollars and free cents.  This suits my budget beautifully.  But for my birthday I got John Meacham's American Lion, a biography of Andrew Jackson's years in the White House, which were, needless to say, eventful.  It's a beautiful hardcover book with those classic looking semi-frayed pages.  I'm fairly confident I'm getting as much pleasure out of fondling the pretty book as I am reading it.  But then again, I've said less-gay things.
I remember going downstairs at my Uncle Ken's old place and he had shelf after shelf of books, a mini-library full of interesting stuff to learn, from which I always picked the least educational book with the most jokes.  I've always kind of been of the belief that if you're going to spend hours reading something, at the end of that time it'd be nice to be a little smarter than you were at the beginning, so non-fiction makes sense.  I can't wait to have a non-fiction mini-library full of funny books I don't remember because of the drinking problem I developed at 30.
Did I mention I intend to develop a drinking problem?  Not  the type of problem where people point out that I have a problem, but the one where people of high society respect me because I can tell what a good scotch is.  I've always had this curious desire to be able to distinguish between things like the gas station Colts I occasionally enjoy (thanks, Dad) and a Cuban cigar.  I'd love to have a decanter full of scotch on a tray with classy glasses that I occasionally splash the bottom of and sip like a gentleman.  I recently conquered wine (and by conquered, I mean became capable of consuming it.  Distinguishing between $4.99 and $49.99 is still not in my set of tools).
I think I can justify my interest in wanting to enjoy these things.  The logic goes like this:  Everything I hated as a kid and was told was "an acquired taste" (grapefruit juice, turnips, asparagus, spinach), was an acquired taste.  I absolutely love them now.  So I assume that these things that are supposedly an extremely acquired taste are going to blow my mind when I learn to like them. 
I think I understand these grumpy old men who sit on their porch and decry everything youthful and temporary.  They've found their comforts.  Black coffee in the morning, read the "obits", as the slang goes for people who read obituaries enough to develop slang for them, a bacon sandwich for lunch and a whiskey in the afternoon.  Given, that's probably not the healthiest lifestyle (or one that probably exists anywhere), but my point is that people seem to spend the first 60 years of their life finding out what they like, and the rest of it enjoying those things and those things alone.  iPod?  Stuff it, junior.
So, I've got another 34 years to get my tastes right before I devote myself to my morning paper, Arizona Green Tea, Snack-Packs and gas station cigars.  That's not gonna scare any kids.  And isn't that the ultimate moment of accomplishment for the refined palette?  You let your grandkid have a sip of your scotch and watch the kid reject it like Lebron on defense.  Then you get to say "one day you'll appreciate all this young one….. One day".
I believe I'm qualified to speak on travel.  My dad coached hockey in a number of states when I was younger, and during the season my brother and I would fly to see him every other month for a good 6-7 years.  Then I played college hockey in Alaska where we would fly ten times a year to the lower 48 states (accruing a scant 150,000 airmiles, enough for a spring break in Mazatlan, one in Panama City Beach, a few New York runs and a couple shipments of girlfriend).  The fine print that they don't magnify until after you've signed the commitment papers is that the flight up there is an hour longer than the one down because of the winds.  Enjoy that after two games, ten beers and a 4 a.m. wake-up call.  In a suit.  And now, playing on the west coast, we fly everywhere we play.
So here's my question.  What breed of human is it that thinks it's acceptable to travel in hospital pants and a wife-beater?  Sir, you aren't setting a good example for your son by wearing matching vegetable embroidered PJ pants for a travel day.  Who made the nation-wide decree that travelling on an airplane is equivalent to being strung out on a torture rack? 
People drive in cars all day.  They sit at their desks.  They go to the mall.  And in none of these instances is the socially lowest form of dress required below blue jeans.  And how long is a travel day?  A two hour flight might equal four hours of airport time, and we're letting humans get away with entire wardrobes that don't contain a solitary button.  Men used to wear suits to fly.  Men used to wear three-piece double-breasted suits to play golf in the summer.  I'm not declaring Armageddon because standards are a little more lax, I'm merely pointing out that you can suffer through one to five hours on a plane in jeans and a t-shirt.  Clean it up.
And while I'm offering more sage advice, we need to post some international gym rules.  I don't mean to re-rack the weights when you're done with them; I mean that men need to re-rack their fat heads.  The mirror is for checking your form while lifting, not to further the belief that the Gotti haircut was created by God just so the gorgeous Italian male could carry on wooing underage females.  Check your form, give yourself a quick eval, but please don't flex.  There are few situations where it's harder to suppress a laugh than watching a guy who thinks nobody is looking do a mini-pec dance for himself.
And guys, lets agree on something.  If we're both walking down the center of a hallway big enough for two people, let's pretend we're cars.  We'll both get in our lane and sail on by like happy buddy ol' pals.  If I take my lane and get clipped by one more guy pretending he can't pull in his arms because of his huge lats, I'm calling my tough friends in their leather jackets and declaring one of those snap-fights from The Outsiders on your gang.
Sometimes the weights are really heavy, and you have to exhale loudly.  Or grunt a bit.  Sometimes if you give a little "ungh" it can help you get that last rep out.  But much like girls in porn, you don't need to make that ridiculous sound every time you do something.  I guess if I poured my tips as a bouncer into GNC for supplements to inflate my chest, I'd want people to notice too.  But believe me, we do.  I don't like using my string bean arms to do bicep curls with weights from the Pilates class as is, let alone when I'm beside Johnny Bravo.
The problem is that the gym has become a meat market dating scene for meats that should be in the market for counseling.  Lulu Lemon has only propagated this sickness by spray painting girls lower-halves and declaring "pants!"  It's a gift and a curse.  The gift is obvious, but the price for this is that girls who don't want uncomfortable male attention at the gym get it, like it or not.  Arena's are to pucks like Gold's Gym is to eye-rape.  Find one, you'll find the other.  What most of these guys don't seem to realize is that the majority of women think they're acting like clowns too.  Stooges even.  If only I could find an appropriate picture to summarize my exact point…..
I'm amazed the NHL can't get so much as a shift televised on ESPN.  They cover bowling, that spelling bee, dog show's and pool.  And we can't work out a deal to get a Capitals / Penguins game on ESPN 2 out of prime time?  Who's doing the marketing for the NHL, the PBA?  They seems to be the only people benefitting from the NHL's relative (inter)national obscurity.
ESPN would have to contribute zero to the process, just show the games.  Every single NHL game is televised somewhere, covered and commentated.  I bet you could sell these pre-packaged games to ESPN and the major networks, if only by re-opening dialogue on options for the 2009-2010 season. 
It's official, they can no longer hold the lockout against us.  Baseball has had one, plus everyone seems to be catching that unfortunate bug in the air, steroids (wear a SARS mask).  The NFL can't keep it's players out of jail during the season (top stories: Michael Vick strangling dogs and Pacman Jones being photographed in more jumpsuits than an '80′s workout tape).  The first 3 quarters of NBA games are as exciting as beige and Stephon Marbury's attitude isn't that far of an outlier from the common NBA demeanor.  I'm not saying it's the best sport to watch, but I am emphatically saying it's better than a substantial portion of what ESPN covers.
I bet the NHL could get ESPN to commit to a couple games in an email if they stated their case.  The quality of the game is up, fan interest is up, and it's a tough era for ticket sales.  The problem lies in the stagnancy of the NHL leadership.  The US government is seeing change in policy with new leadership, and the NHL needs it too.  You know interest is under-represented in the US when I just spent 2 full months on the couch with a busted jaw staring at my idiot box, and the only thing I know about the NHL is Barry Melrose got fired and Ovechkin is sweeeeeeeeeeeeeeeeeet.
So!  That plan of attack.  Bettmann get's the boot.  Who do we hire? (Put your hand down Melrose)  Is Brian Engblom's hair available?  It seems to have things in order.  The new trend seems to be black guys.  Obama runs the country, Steele runs the Republicans and Tiger runs the PGA.  Should we call Jorges Laraque?  Who wouldn't listen Gorgeous Jorges?  Hell, get Mark Cuban, I just want somebody with a little fire.  Bettman looks like a cross-breed between Droopy-Dog and Ziggy.  I'm just sayin, on the heels of a "hope and change" campaign in the US, I'm hopeful there can be change in the coverage of my beloved NHL.
Completely random tangent:  For those of you who grew up and made enough money to not eat Kraft Dinner anymore, I suggest "going college" one day and giving it another go (and I'd buy stock in Kraft and Campbell's; dinner for 2 bucks can't be all bad in our doom and gloom-conomy).  I had it today and man, was it good.  I even measured the proper amounts of stuff.  On the flipside, I've barely eaten solid food for two months, so a lunch review from me is like restoring the vision of a blind guy and asking him to describe the drive home.  I'm pretty sure the review  reads "5 stars!".
Another random note: I found the picture of the bunny I wanted in my blog Every Blog Has It's Day.  He's second down, and loves garnish.
I love people who love sports.  A lot of people like sports.  But it's those few die-hards that cross the line to "love" that makes watching fun.  And I've learned that it's fun to be so committed to a team, or a game, or a program that if affects your mood for the night.  Sure, that means sometimes you get put in a funk on a night that could have been fun, but there's nothing like your team winning on a night where people are primed to go out.
I learned from Keith Johnson in Utah.  I was always a sports fan, but I just watched, and picked the team I wanted to win any particular game with very little rhyme or reason.  Not KJ.  Red Sox, Giants, and UConn basketball, everybody else can burn in hell.  I lived with him in 07.  The Red Sox became World Champs, and the Giants won the NFL Championship.  You should see the video of him dancing on our coffee table after the Giants won.  He didn't even enjoy the game, just sat there in silence, misery even.  It seemed inevitable that the Patriots would find some way to get it done.  He was so sick that the Giants were about to lose, and they were about to lose, that he didn't even get up for the David Tyree catch, he was so certain it wasn't really happening, or it was going to be overturned, something.
My Uncle Ken has been a fan of St. Johns basketball since they were, um, good.  I used to get St. Johns t-shirts for Christmas when I couldn't have told you if it was a sports team or a religious figure.  These guys were clearly getting something out of their sick committments.  So I decided to make the leap.  And like some bad relationships, the good part is just so so good.
My teams are the Isles (shocker), the Jets (is it a problem that I like the Patriots too?  It's tough not to love Boston sports), and the Mets.  It hasn't been a pleasant ride recently with the Mets, what with the consecutive stomach punches they've dealt their fans in the last two seasons, but I've enjoyed the ride.  I always chuckle a bit when I walk into a deli in NY for lunch (which is daily when I'm there) and hear someone, in their best I-can't-believe-that's-not-a-parody-of-an-Italian, say:
"How bout the F#$%? Mets last night?"
When your team wins, it can change the whole mood of the day.  Have you ever been a part of a big group of people yelling at the TV and high-fiving?  On the togetherness scale it's comparable to church.  Any game can be made interesting if somebody in the room truly cares.  People pick up on his energy and support him or her.  So why not be that guy?  Every time your team is on you can recruit new friends and fans, get into it, grab a beer!  I know I've got friends at home who are Canuck fans that truly care about the team's success.  The difference, as a friend told me, is that no game makes you think  oh, oh this is good, oh, oh, this is bad more often than hockey.  The energy in a room full of true hockey fans is electric.
But the east coast is an amazing culture to root with.  The New Yorkers get a lotta bumps about being rude, but even when they're nice it seems to comes off as rude.  I've found they're no-less decent than my hometown of Kelowna.  In general it's a smart, funny group that I really want on my team, even with having to listen to them pour abuse on Brett Favre like gravy on potatoes.
So I went from an ankle on board to the whole body, and I'll be on the bandwagon through thick and thin.  When I move to Boston, I think it'll be fun to argue with the mass-holes about both of our ridiculously over-budgeted teams.  I've got a Sox hat and a Green Monstah shirt, but not because I want the Sox to win, I just love the sports culture in Beantown.  It's a young group of obsessive fans, and since I don't hate the Red Sox (Yankees fans do that), they're a fun group to drink with.  It's a blast to have a sports conversation with people who know their stuff, and can personally call plays.
"Watch this, Strahan gets fired up after a pass down the field, he'll go offside here"
TWEEET!  Offside.
Wow.
Go NY Jets-Mets-Isles!
Okay, I don't know how this happened, but my blog has become a site for animal worship, instead of sports blogging.  I'm afraid the majority of you who are enjoying my blog for it's random support of stupid animal pictures may be disappointed in the coming months.  I'm somewhat fearful of  estranging my male readers.  Sports are my area of expertise, where politics and puppies are my passions.  Since I do intend to parlay this into actual work at some point, I will be switching back to the real purpose. And something about a peck of pickled peppers. 
So, for one final episode, I present the Theme-less Animal Photo Contest.  With help from Bri, I've compiled an assortment of ridiculous animal pictures that I feel the need to share.  There's a place to vote for which picture elicited the best reaction from you at the bottom, so we can crown ourselves a champion.  If you have any great pictures of your own, feel free to leave them in the comments section if that's possible, or just email them to me at jtbourne@gmail.com.  Without further introduction, I give you my all-time faves, complete with comments where necessary.
I know I already posted this one, but come on.  Tough act to follow for the other sniffers.
It looks like it's aware of how stupid it looks, like it's at a rookie party for cats.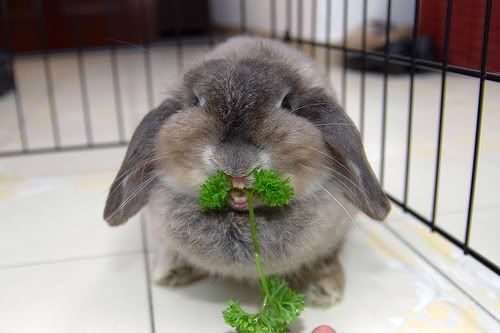 Rabbits like garnish.
Um, I like kittens.
This is my relationship with Bri on Sundays.
Hi.
I named him Gravity.
You couldn't love me more if I were chocolate.
AAAA I'M A CAT THIS IS MY FAAAACCCEEEE
Yoda.  Bathing, I am.
This what this breed is best at.  It's fantasizing about being able to sleep-eat.
Seriously? Take the carrot outta the socket, chum.
I think this is Satchel from the cartoon "Get Fuzzy" as a puppy (best cartoon out there).
If you didn't smile at any of those you're cruel.  These are my best of the best animal pictures.  If you have better, prove it.  Place your votes!
[polldaddy poll=1362815]
I'll address Swiffer's new invention a little farther down.
The NFL season is a beast of a schedule.  It's only 16 regular season games, sure, but have you watched one?  The game is an hour long, of which players are on the field 20-40 minutes depending on their position and how the game is going.  But those are brutal minutes.  Every play carries the summer of training combined with anger and opportunity, all jammed into each gigantic shoulder-to-helmet explosion.
Which is why I appreciate that the performance Brett Favre did what it was supposed to do.  After years of watching professional baseball players stats increase after fourty (hmm), and 18 year olds excelling in the NHL, it was nice to watch the natural curve and progression of a normal (and excellent) career.  The man was playing Quarterback in the NFL at 40, his shoulders were held together with Scotch Tape and the press was harder on him than the opposing Defensive Line.  As a Jets fan, I was crushed when the team stumbled down the stretch, but it wasn't beyond understanding.  Clemens fastball got better at 42 and we all thought "Wow, this guy's a legend".
Didja see the Westminster Dog show? Didja??  It was great.  Watching it, I instantly became the worlds harshest dog critic.  Nope, stupid haircut.  That one has dumb feet.  Punch that dog.  But I laugh about every two minutes.  Where are all these dogs in the real world?  Why doesn't my neighbor own a dog with cord-thick dreadlocked hair?  I want one.
Stump was the big winner.  Get a loada this guy.
Ha!  What a proud breed, Sussex Spaniel.  I don't usually care for Spaniels, but come on, his name is Stump and he's ten.  You love him.  But there's some other crazy breeds.  Check these dogs out:
I'm a Komondor.  I say arf.
You can't tell if I furrow my brow.
You can punch one of us, go.
Good times.  I think the next reality show should be "Pick the biggest dog dork", and at next years dog show we'll use a little trickery.  The dog owners will think it's a show for the dogs, but really we'll use the show as a platform to interview as many of these obsessive dog owners as possible and we'll pick the biggest social write-off.  For betting purposes, the people who pick owners of Standard Poodles have to give the rest of us odds.
But wait!  I think we have an early leader!  Not sure who he is, but he looks eligible.
My family doesn't have a whole lot of dogs in it, aside from the Gillies collection of Newfoundlands.  Let me quote the Dog Show Commentator on Newfoundlands (note: "Dog Show Commentator" not eligible for social-ineptness award)  "Not the dog for neat freaks.  They drool and shed and like to play in the water bowl from the bottom up.  Champion swimmers".  Nice pick Pamcakes.
But if the Bourne's were to have a family entry, it would be my Aunt Kathy's dog Duffy.  He'd probably win any dog show with his deep, intelligent eyes, we've just never tried.  There's just one issue.  What category do we run  it  him in?